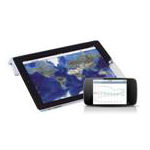 Over 6 billion new Internet-enabled devices will be produced this year, according to new market research from IHS Technology, indicative of just how interconnected the human species is becoming.
Worldwide production of connected devices will total some 6.18 billion in 2014, up 6% year-over-year. That would be the largest gain in four years, exceeded only by a 10% increase in 2010, the year following the trough of the last global recession, IHS Technology analysts note in "WLAN 802.11ac: Commercial Product Introductions Start to Ramp Up."
IHS expects production growth rates to slow over the next few years even though the absolute number of connected devices hitting the global market will continue to increase. An estimated 19.42 billion new devices will "flood the planet," according to IHS Technology.
"The improved growth this year of the connected devices industry marks the return of higher production as manufacturers deliver all sorts of connectivity equipment to users," IHS senior director for information technology Jagdish Rebello, Ph.D. was quoted in a press release. "Given the voracious appetite of consumers for social media and their yen for always-on connectivity, it's little surprise that makers will continue to turn out such devices to keep buyers engaged."
More video game consoles, media tablets, mobile handsets, LCD TVs, set-top boxes and mobile PCs will be produced in 2014 than ever before. In contrast, production of digital still cameras, camcorders, desktop PCs, DVD players and recorders and portable media players will decline, IHS forecasts.