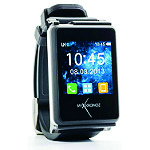 The global wearable technology market grew at a 16.9% annualized rate year over year in 4Q 2016 as 33.9 million units were shipped, according to the latest market research from IDC. Shipments for the full year totaled 102.4 million units, up 25% from 2015.
Lending direction and focus to the market, executives of leading smart wearables platform providers Apple's WatchOS and Android Wear recently pivoted towards fitness and health wearables, the only wearable market drivers that's proven to have any staying power with consumers, IDC highlights.
Wearable Market Drivers
"Like any technology market, the wearables market is changing," noted Ramon Llamas, research manager for IDC's Wearables team. "Basic wearables started out as single-purpose devices tracking footsteps and are morphing into multi-purpose wearable devices, fusing together multiple health and fitness capabilities and smartphone notifications.
"It's enough to blur the lines against most smart wearables, to the point where first generation smartwatches are no better than most fitness trackers."
Smart wearables, which are able to run third-party apps, are evolving as well, and again, the focus is on fitness and health applications, Llamas continued. However, "once these devices become connected to a cellular network, expect unique applications and communications capabilities to become available. This will also solve another key issue: freeing the device from the smartphone, creating a standalone experience," he was quoted.
Fitbit maintained its market-leading position in 4Q, shipping 6.5 million units for a 29% market share. Year-over-year, Fitbit's 4Q unit shipments dropped 22.7%, however.
Xiaomi followed as 4Q unit shipments surged higher, nearly doubling to 5.2 million units for a 15.2% market share. Apple ran third, shipping 5.2 million units for a 13.6% market share, up 13% from 4Q 2015.
Despite the ups and downs, companies from various industry sectors continue to enter the wearables market, IDC points out. That includes fashion industry leaders, such as Fossil, as well as niche-oriented players, such as BBK, which focuses on child monitoring devices, and Li-Ning, which focuses on step-counting shoes, potentially expanding wearable market drivers.
This and other factors leads IDC to forecast strong growth for the wearables market globally, although it's vendor-push, as opposed to consumer-pull, that's serving as the primary driver.
"As the technology disappears into the background, hybrid watches and other fashion accessories with fitness tracking are starting to gain traction," commented IDC Mobile Device Trackers' senior research analyst Jitesh Ubrani.
"This presents an opportunity to sell multiple wearables to a single consumer under the guise of 'fashion.' But more importantly, it helps build an ecosystem and helps vendors provide consumers with actionable insights thanks to the large amounts of data collected behind the scenes."
Wearable Technology Market Trends
IDC also highlights developments at leading wearables vendors in its press release:
Xiaomi's relentless growth helped to close the gap between it and the top vendor. Like its other product lines, the company has stuck with a low-cost strategy and has slowly tried to veer upstream in terms of pricing by introducing new devices with heart rate monitoring and a mildly higher selling price. However, Xiaomi still lacks the expertise and brand recognition to expand beyond its native borders in China.
Apple Watch Series 1 and Series 2 proved to be a magnificent success for the company as it was the company's best quarter ever in the wearables market. The lower entry price point and the inclusion of GPS on the Series 2 along with a completely revamped user interface have helped the company grow its presence. Apple is one of the few companies that has been able to quickly refocus its watch to gain traction in the consumer market and has also been leading the charge on introducing the smartwatch category to the commercial segment.
Garmin experienced a slight decline of 4.0% in 4Q16. However, the company did manage to significantly raise its average selling price (ASP) to $258 in the fourth quarter from under $200 last year. Garmin caters to a more dedicated fitness audience and this has worked well as many of its users began to graduate from simpler fitness trackers to more sophisticated and expensive sport watches like those offered in the Fenix line. The new Fenix 5 announced at CES 2017 also shows promise as the new smaller size will help the device appeal to a broader audience.
Samsung rounded out the top 5 with the launch of two new models (Gear S3 Classic and Frontier) and remains the only major company offering cellular-enabled wearables. LTE connectivity has been a key differentiator for Samsung's watches as it has helped decouple them from smartphones, but more importantly it has opened up a new channel (telcos) to help promote the Samsung watches. Outside of watches, Samsung's portfolio also includes the Gear Fit 2 and the Icon X, though without any smartphone bundles, volumes for these wearables were lower than expected.