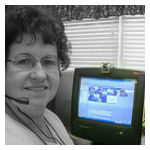 Strong underlying fundamentals support expectations of growth in the worldwide enterprise market for videoconferencing and telepresence systems, but challenges continue to get in the way, according to IDC. Overall videoconferencing equipment revenue fell for the second consecutive quarter in 2Q13, declining 10.7% year over year and 5.5% quarterly in totaling just over $532 million, according to the "IDC Worldwide Enterprise Videoconferencing and Telepresence Qview" report.
2Q13's revenue total is down 34.3% from the record high set in 4Q 2011. Breaking out performance across market segments, IDC found that multi-codec immersive telepresence continued to decline, falling 32% year over year. Video infrastructure equipment, which includes hardware MCUs (multi point control units), fell 20.4%, while room-based video systems dropped 5% year over year. Desktop video systems revenues, in contrast, rose 7.7% year over year in 2Q13.
Looking at regional performance, the videoconferencing and telepresence systems market fell 14.1% year over year in the Asia-Pacific and 11.3% in Latin America. Revenues in Europe, the Middle East and Africa (EMEA) and North America both fell 8.8%. Quarterly gains were recorded in North America (up 5.5%) and the Asia-Pacific (1.9%), though the EMEA and Latin America regions registered quarterly declines of more than 20%.
Commenting on the latest market statistics, "The macroeconomic situation, including the recession in Europe and sequestration (i.e. budget cuts) in the U.S., produced a cautionary IT spending environment that carried over into the first half of 2013 with the spending outlook for the second half of the year not much more promising," Rich Costello, IDC senior analyst, Enterprise Communications Infrastructure, was quoted as saying.
"In addition, and most significantly, we are definitely starting to see the impact of lower-cost video systems and more software-based products and offerings on the enterprise video equipment market."
Key vendor highlights of the latest IDC report include:
Cisco's 2Q13 results showed a -7.5% year-over-year decline and a -10.6% quarter-over-quarter decline in video equipment revenue. Cisco remains the leader in enterprise videoconferencing equipment with a 41% share of the worldwide market.
Polycom's revenue increased 4.2% quarter over quarter in 2Q13, but was down -14.8% year over year. Polycom ranks second in enterprise videoconferencing equipment with a 29.2% share of the worldwide market.
Huawei's 7.1% quarter-over-quarter revenue increase in 2Q13 was good for a 7.6% share of the worldwide enterprise videoconferencing market.
"Despite the overall weak 2Q13 results in the worldwide enterprise videoconferencing equipment market, we are still seeing interest in videoconferencing being driven by integrations with vendors' unified communications and collaboration portfolios, and the proliferation of video among desktop and mobile users," senior research analyst for IDC's Worldwide Networking Trackers Research Petr Jirovsky added. "Video as a key component of collaboration continues to place high on the list of priorities for many organizations."
Image courtesy of flickr user Old Shoe Woman.