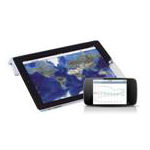 Only 16 percent of enterprise-scale businesses have an "enterprise-led mobile strategy," according to a new market research report from IDC sponsored by enterprise mobile company Kony.
Surveying over 400 IT decision-makers responsible for influencing or directing mobile strategy at enterprises, IDC found that companies "that make strategic investments in mobility are achieving significantly more meaningful business results than those that do not."
Highlighting the growing importance of mobile technology to businesses and society, over 2 billion smartphones and tablets will be shipped worldwide by 2017, IDC forecasts. That presents enterprises with opportunities, as well as challenges.
"With the number of mobile applications downloaded from app stores expected to increase by a 31.7 percent CAGR by 2017, enterprises are realizing that a mobile strategy is no longer a nice-to-have but a must have," commented Kony CEO Thomas E. Hogan. "But bringing the goals of IT and the business into proper alignment is difficult when it comes to a mobile strategy.
"The results of the survey are further proof that those organizations that practice a mobile-first business model will improve business performance while engaging customers, business partners, and employees in new ways. Developing a clear mobile strategy is not something enterprises can ignore any longer."
Enterprise Mobility
Entitled "Creating Business Value from Mobile-First Development Practices," key report findings include:
Companies that make enterprise-led strategic investments in mobility are realizing significantly higher levels of meaningful business benefits than those that have just business unit-led or departmental-led mobile approach;
Only 16 percent of companies take a clear, enterprise-led approach to mobility. However, 93 percent of companies with an enterprise-led approach rated their success with mobile deployments higher than companies with a business unit-led or departmental-led approach;
Nearly 50 percent of organizations using a mobile solution named the following benefits as critical for impacting their business: smarter, faster decision making, improved organizational efficiency, cost savings, better customer interaction and increased revenue;
41 percent of companies have an ongoing enterprise-wide mobile budget. These companies have the highest allowance for mobile budget, which tends to provide for strategic investments in mobile staff or to augment that staff with outside support;
31 percent of companies have a comprehensive mobile technical staff augmented with external support and another 30 percent have a mobile development/architect group;
Nearly 40 percent of respondents cite security and compliance issues as a challenge, the most of any other response choice.
Senior management needs to develop and implement an organization-wide mobile strategy for benefits to be realized and problems averted, added IDC Research Director, Mobile Enterprise Software Stacy Crook.
"Modern mobile application design asks for a fast and flexible model that engenders communication across the key stakeholders in the organization. By creating a cross-functional mobile center of excellence within their organization, enterprises are best positioned to build a cohesive strategy that marries line of business wishes to IT requirements."