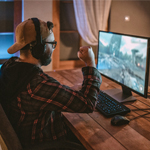 After a poor year in 2018, global shipments of gaming desktops, notebooks, and monitors rebounded in the second quarter of 2019, according to new gaming device shipments research from International Data Corporation (IDC). Gaming device unit shipments reached 10.4 million in the second quarter, representing a 16.5% increase from the same  period a year ago.
IDC credited a reduction in CPU shortages and improved GPU inventory for the boost.
Dominating the recent numbers were gaming notebooks, which continued to dominate the gaming device market, with 12.7% growth compared to the same period in 2018. IDC credited the strength to a wide number of pricing points, enabling those at the low end of the market, those looking for very high-end systems and those in between to have a number of choices that fit their needs. The availability of models supporting popular ray tracing also helped fuel growth.
Even gaming desktops, which had a recent history of poor performances, saw a modest upswing, with a 3.3% gain, according to IDC.
"Even as the second quarter saw a general reprieve for gaming desktops, the decline of gaming desktops in emerging markets, particularly in China, is concerning for vendors and signals the larger trend of moving toward more mobile form factors that can still get the job done," said Jay Chou, research manager for IDC's Personal Computing Device Tracker, in a prepared statement. "Gaming notebooks increasingly bring that value proposition of portability while also narrowing the performance gap against desktops."
The research firm expects 9.6% growth for gaming desktops, notebooks, and monitors for the full year, resulting in a total of 42.8 million shipments, a figure that is expected to grow to 55.2 million units by the end of 2023.