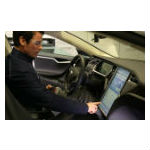 Interested "in all things tech," young adults considered members of Generation Y will have a big impact on the future of the connected car industry even though many have yet to make their first new car purchase, according to new market research from GfK.
Conducting a study spanning several countries reveals that 46 percent of drivers up to 34 years old across the U.S., U.K. and Germany, found the idea of a fully integrated in-car entertainment system very or extremely appealing. "That's more than double the percentage (20 percent) for drivers ages 45 and over," the market research company highlights in a press release.
Advising automakers and in-car tech companies to focus on Gen Y, GfK points out that those ages 25-34 drive more than those in other age groups: an average 5 hours per week as compared to 4.6 in the developed markets surveyed.
Gen Y drivers in the U.S., U.K. and Germany, moreover, are more apt to "feel proud" and "excited" while driving.
GfK also points out that those in Gen Y are the new car owners of the future. Three-quarters of those in developed and 79 percent in developing markets believe they are likely to own a car in five years' time, GfK found.
Connected Car Appeal
"These factors combine to make Gen Y drivers an attractive audience for connected cars – especially as they grow closer to the age at which people tend to become new car buyers," commented GfK's global lead for automotive Frank Härtl.
"What the industry needs to do is find ways to let Gen Y drivers experience connected cars now – and that means outside of the direct purchase cycle – so that they discover that cars deliver the emotions of excitement and pride in a car that they aspire to."
Alternative means to traditional new car financing, such as Zipcar's pay-as-you-go car rental or hire services, may offer Gen Y'ers "crucial experiences with connected cars," according to GfK. About one-third of those surveyed across Germany, the U.S. and U.K. said they would likely or definitely consider pay-as-you-go instead of outright ownership. In contrast, just 19 percent for those ages 35 and up were found to be interested in pay-as-you-go car rental or hire services.
"By including connected cars in the growing car sharing services, the industry can give younger drivers an opportunity to discover this technology and fall in love with the experience it delivers," Härtl was quoted.
"Current car sharing services require an interaction with technology (website booking, apps for locating/unlocking vehicles) that Gen Y consumers already enjoy – so adding connected car technology to this experience will be a natural progression for them. And with this 'foot in the door', the industry then has an engaged audience that should drive future demand."