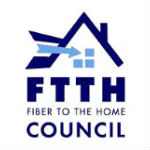 Fiber broadband connectivity increases the market value of rentals in multiple-dwelling-units (MDUs) by 8 percent, according to the results of a new Fiber to the Home (FTTH) Council Americas study about FTTH and apartment rentals. The study also found that FTTH increases the value of a condominium in an MDU by 2 percent.
Fiber broadband connectivity can increase MDU owners and operators' net income per average unit by as much as 11 percent, the industry trade association highlights in a press release. The study was based on financial data from the National Apartment Association and a survey of MDU residents in the U.S. and Canada by RVA, LLC.
FTTH and Apartment Rentals
RVA's survey about FTTH and apartment rentals found that renters would require an $80 per month discount on a $1,000-per-month apartment rental if fiber broadband access was not included. Apartment owners would require an average discount on the purchase price of a $300,000 condominium of $8,628.
Speed-test surveys and questions about subscribers' service needs have shown that fiber-based broadband in MDUs is significantly more reliable, as well as faster, than alternatives, FTTH Council Americas points out.
¨Today's findings add to the growing body of evidence that fiber is a win for communities, for consumers and for property owners,¨ FTTH Council Americas' Board Chairman Mike Hill was quoted as saying. ¨This study is another tool network providers can use in their discussions with MDU owners and operators as they seek to deploy fiber, meaning faster and more numerous deployments throughout North America.¨
Other key takeaways include:
Surveys of MDU residents have found that fast, reliable broadband is the single most important amenity, rating it higher than a swimming pool, 24-hour security monitoring, covered parking, gym access and cable TV access;
Resident satisfaction increases with fiber broadband access in place and appears to reduce churn, which helps owners and operators maintain high occupancy rates and provide a better quality living environment;
Evidence suggest that MDU residents with better broadband service spread the word, which reduces new customer acquisition costs;
MDU residents want access to multiple broadband providers, ranking it sixth of 12 possible amenities.