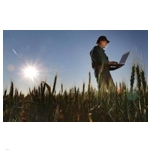 The farm bill that passed a Senate vote yesterday could bring gigabit networks to as many as five rural communities in a pilot program. The plan came in the form of an amendment to the Senate farm bill proposed by Vermont Senator Patrick Leahy.
A spokesman for Senator Leahy said the gigabit networks would not require new funding but would be funded through an existing Rural Utilities Service program. The spokesman said the initial plan was to award funding in the form of loans but that the final version of the amendment includes grants.
It would be up to the RUS to determine where the gigabit networks would be built and the selection process would be similar to the one used today in awarding RUS grants and loans, the spokesman said.
"Next-generation gigabit networks have the potential to transform rural areas," said Senator Leahy in an announcement about the amendment. "Rural America has so much to offer, but without the great equalizer of high-speed Internet, rural communities cannot live up to their full potential. Investing in next-generation networks now will help ensure that rural areas do not fall even farther behind."
Not surprisingly Senator Leahy said he believes Vermont would be an excellent place for one of the gigabit networks.
Whether Leahy's plan becomes law remains to be seen. The House of Representatives – which is working on its own farm bill — has not approved such a plan, the Leahy spokesman said.