Cal.net, a service provider focused on offering fixed wireless access (FWA) and fiber broadband to California's Central Valley and rural northern California, has a new CEO and new funding. And as the new CEO, Jack Barker, explained in an exclusive interview with Telecompetitor, the company is gearing up for deployments again, despite being rejected for funding it tentatively won in the Rural Digital Opportunity Fund (RDOF) program.
The RDOF program was designed to cover some of the costs of making broadband available to unserved and underserved rural areas. As Barker explained, Cal.net was one of several companies that won RDOF funding for California but were rejected because the state did not grant them eligible telecommunications carrier (ETC) status, a requirement for the program.
Cal.net's rejection was a surprise, considering that the company previously had gained ETC status for funding that it won in the 2018 Connect America Fund (CAF II) program.
Barker, who had been Cal.net's CFO since January 2021, has secured private equity funding through Littlebanc that is expected to fuel the company's future expansion plans.
As Baker explained those plans, "We build as many fiber points of presence as possible and serve the last mile with whatever [technology] makes sense."
In some cases, the last mile connection is fiber. In others, the company uses FWA for the last mile.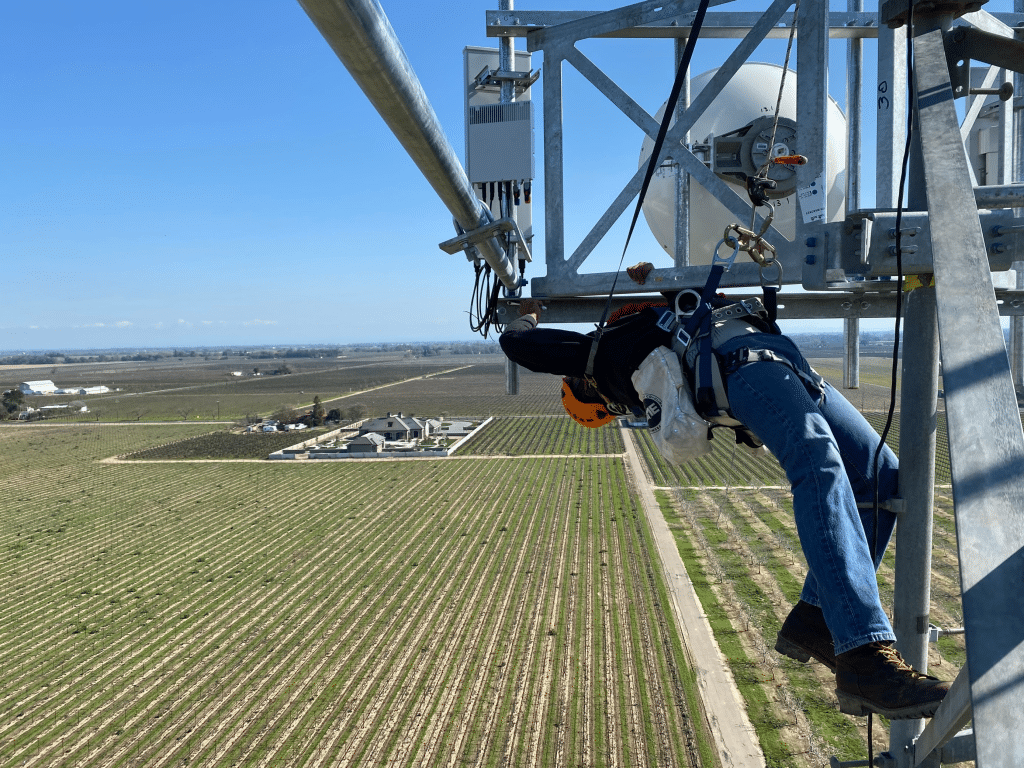 Technology Choices
In planning the company's network, Barker said, "I want to make sure I have packages that the entire spectrum of the population can afford."
As Barker explained, agriculture is central to California's Central Valley, which is the major source of almonds and pistachios in the U.S. It also is a major supplier of oranges and other fruits.
Residents include landowners who subscribe to 500 Mbps service, as well as agricultural workers, who make $15 an hour and for whom a good price is more important than the highest broadband speed.
"In rural counties, parents want their kids to do homework at home," said Barker. "They don't need gigabit wireless."
Indeed, these households are content with speeds of 7 Mbps downstream and 3 Mbps upstream – an offering they may be able to get for just $5 a month if they are eligible for the Affordable Connectivity Program, which pays $30 a month toward the cost of broadband for low-income households.
Like some other FWA providers, Cal.net uses different FWA technology for different use cases. The company is using Nokia equipment based on LTE for its CAF II build, which is required to deliver speeds of 100 Mbps downstream. The 500 Mbps offering uses equipment from Tarana.
The provider has even deployed some equipment that operates in TV white spaces spectrum – technology advocated by Microsoft for its Airband program, in which Cal.net is a participant.
Airband is Microsoft's initiative to make broadband available to unserved rural areas, primarily using FWA. Microsoft, which is one of the biggest fans of TV white spaces FWA, made an investment in Cal.net three years ago.
TV white spaces didn't work well for Cal.net, though, because some of the areas that the company serves are too close to urban areas, Barker explained.
"There was a lot of noise," he said. "We're not doing much of it."
Moving Forward
Cal.net also is involved with Microsoft in planning a demonstration project involving agricultural technology. Cal.net will provide wireless connectivity for a sensor network that will support water and pesticide management.
Other plans include applying for more government funding to support Cal.net's expansion. Asked if the need to get California ETC status might be a roadblock, Barker said the BEAD program – the biggest of those programs — doesn't require ETC status.
The funding that Cal.net received from Littlebanc also could be used for mergers or acquisitions. As for what Cal.net would look for in a potential acquisition, Barker noted that there are some smaller fixed wireless providers that have attractive subscribers and outdated networks.
"We would be interested in their tower locations and subscriber lists," he said. "If we can acquire them at an attractive price that makes sense, we could upgrade them to the speeds [we offer] today."