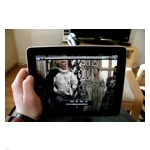 TV and video entertainment consumers around the world are spending no less than 35 percent of their viewing time watching content delivered by video-on-demand (VoD) services – a percentage never seen before, according to the Ericsson ConsumerLab TV & Media Report 2015. The market research result attests to the critical importance personalized ¨a la carte¨ viewing of video entertainment has come to play in the U.S. and worldwide.
Globally, TV and video viewing via mobile devices – smartphones in particular – is a big growth factor, Ericsson ConsumerLab highlights in a press release. The percentage of viewers who watch video on smartphones has risen to 61 percent, an increase of 71 percent since 2012. In the U.S., smartphone video viewing rose 136 percent.
Accounting for tablets, laptops and smartphones together, mobile devices account for nearly two-thirds of the total time teenagers worldwide – more than half in the U.S. (55 percent) – spend watching TV and video content.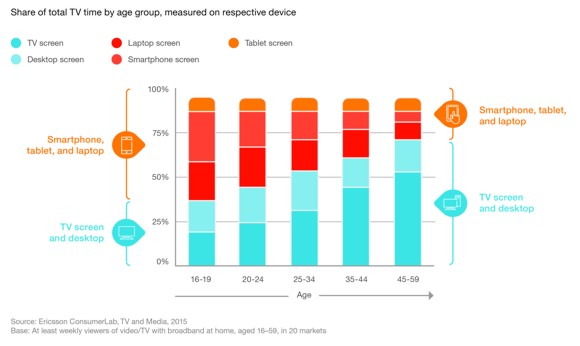 No real surprise, younger generations are at the head of the pack. More than half (55 percent) of U.S. teenagers' TV and video viewing time is spent on a mobile device.
In line with the trend of consumers also acting as producers – so-called ¨prosumers¨ – viewing of user-generated video content is also rising. Nearly 1 in 10 of survey respondents said they watched YouTube more than three hours a day. One in three said watching user-generated content (UGC) at home is important to them.
Educational and instructional videos are benefiting from the growing popularity of UGC, Ericsson ConsumerLab notes. Respondents reported watching these types of videos an average 73 minutes per week.
Binge-viewing on the part of subscription-based VoD viewers is now very common. Nearly 9 of 10 of binge-viewers in the U.S. (86 percent) said they do so at least once a week.
Ericsson ConsumerLab canvasses some 680 million people worldwide regarding their TV and video viewing habits and preferences in producing its annual TV & Media reports.
VoD Viewing Time
"The continued rise of streamed video on demand and UGC services reflects the importance of three specific factors to today's viewers: great content, flexibility, and a high-quality overall experience. Innovative business models that support these three areas are now crucial to creating TV and video offerings that are both relevant and attractive,¨ Ericsson ConsumerLab senior advisor Anders Erlandsson commented.
Overall, Ericsson ConsumerLab found that respondents spend an average six hours per day watching streaming on-demand TV series, programs and films – more than double that in 2011. Adding recorded and downloaded TV and video content brings the total percentage of viewing time spent watching VoD to 35 percent.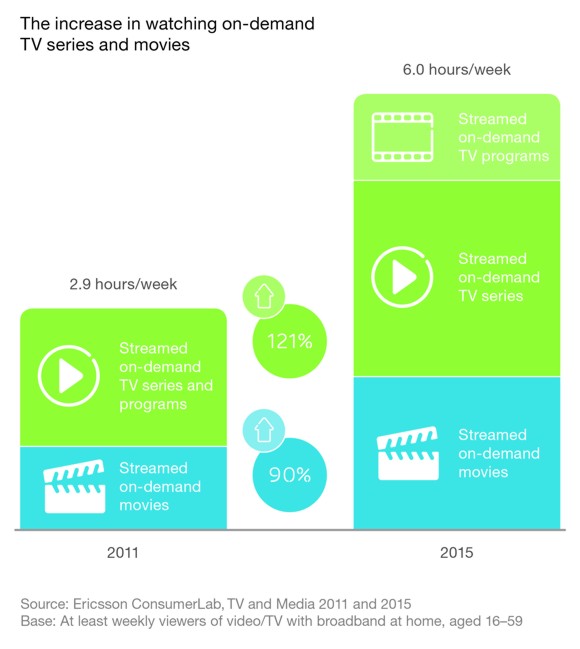 Other highlights of Ericsson ConsumerLab's 2015 TV & Media report include:
The difficulty of finding content: Half of consumers worldwide (33 percent in the U.S.) watching linear TV say they can't find anything to watch on a daily basis. Consumers feel that recommendation features are simply not smart or personal enough.
Different bundles, different attitudes: Twenty-two percent of consumers who have never had a pay-TV subscription are already paying for over-the-top (OTT) content services.
Linear TV remains key: The popularity of linear TV remains high, mainly due to the access it gives to premium viewing and live content, like sports, as well as its social value. In this respect, linear TV often acts as a 'household campfire'.