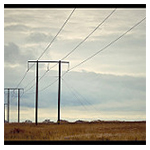 As more and more people come to the realization that broadband is a necessity in rural America, electric co-operatives are likely to play an increasingly important role in deploying the technology, notes rural utility lender CoBank in a new report. In 56 pages, CoBank includes case studies of several electric co-op broadband deployments and explores what made them successful.
Electric Co-op Broadband
In an executive summary, the CoBank report, titled "Making the Move Into Broadband: Rural Electric Co-ops Detail Their Experiences," makes several generalizations from the case studies:
Selling the idea to the board was easy for some electric cooperatives because board members recognized the importance of broadband and did not believe any other network operator would deploy the service. Some other boards took "years of thought and outreach" before making the decision to move forward.
Most co-ops found feasibility studies to be essential.
Some cooperatives did virtually no marketing, yet still have waiting lists for service. Others did outreach from the start using door hangers, yard signs and other materials.
Electric co-op broadband projects can cost in the tens of millions of dollars. Some cooperatives used government grants to fund their projects, but found they still needed lines of credit because the flow of grant money sometimes took longer than was needed to keep the project on schedule.
Several cooperatives developed cost-effective broadband projects, including one that recouped the investment in less than four years.
Electric co-op broadband projects profiled in the CoBank report include:
It appears that electric cooperatives plan to bid in the upcoming Connect America Fund (CAF) II auction that will award funding for broadband in parts of 20 states, as several cooperatives and organizations representing them recently filed comments about the FCC's CAF II auction proposal with the commission.
Image courtesy of flickr user Neil Tackaberry.