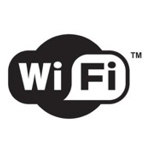 Which U.S. city is best connected when it comes to public Wi-Fi access? Examining so-called "amenity Wi-Fi" in two leading U.S. centers for innovation and technology, San Bruno California-based curated virtual Wi-Fi hotspot network provider Devicescape found that San Francisco beats New York City hands down.
In its study, "San Francisco Trumps New York City in Wi-Fi," Devicescape analyzes "the availability of Wi-Fi, access points and networks that are intentionally shared by businesses and other organizations and that make up the largest offering of Wi-Fi in most cities." On average, "amenity Wi-Fi is twice as available in San Francisco," the researchers found, "with 47% of businesses offering it as opposed to 23% in Manhattan."
Devicescape says "surprising statistics" were revealed regarding the "Wi-Fi landscapes" in the two cities. Making use of crowd-sourced data from hundreds of million of Wi-Fi connections in both cities via its Curator Service Platform and Curator Client services regarding smartphones as well as on-the-ground measurements over the course of a six-month period, Devicescape found:
Twice as many businesses in San Francisco (47%) offer Wi-Fi compared with those in Manhattan (23%);
50% of chains and 45% of independent stores in San Francisco offer Wi-Fi, only 24% of chains and 22% of independents provide this amenity in NYC;
Cafes lead the types of venues that offer Wi-Fi, with 75% in San Francisco and 55% in NYC helping customers get connected;
NYC is the bigger Wi-Fi tease with 32% of venues offering private Wi-Fi that seems to be shared, but is not made available for the public;
54% of Wi-Fi shared in San Francisco does not require a password, while 41% of NYC's shared Wi-Fi is password-free.
"There are several regional and city-wide initiatives where San Francisco and New York City are making great strides in offering Wi-Fi to the public, including major tourist attractions and outdoor locations," commented CEO David Nowicki. "But when it comes to business establishments recognizing the value of offering shared Wi-Fi to customers, San Francisco leads the way as the most Wi-Fi friendly city in this contest."
Earlier this month, Devicescape and the Competitive Carriers Association (CCA) entered into a strategic partnership that enables CCA members to access Devicescape's Curated Wi-Fi offload service, which the provider touts as "an always best connected user experience."
As Devicescape explains, "Devicescape recognizes curated amenity Wi-Fi as a core strategy that helps carriers balance cost and network capacity. Instead of deploying a proprietary network of Wi-Fi access points, carriers can magnify their capacity-reach by leveraging the tens of millions of high-quality hotspots already established by venue owners and open for public use."