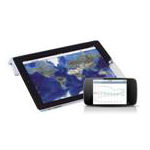 The U.S. lead in development of 4G cellular mobile broadband networks is at risk as other countries make significant investments in mobile broadband innovation, according to a new report from Deloitte. Fundamental changes in the federal government's spectrum management policy are necessary if the U.S. isn't to lose its leadership position, according to Deloitte, which recommends taking steps to aggressively free up additional spectrum.
"While a century of U.S. spectrum policies has served the country well, continued accelerated investment in 4G and related technologies is required for the U.S. to retain its global lead in mobile broadband and reap the associated benefits in GDP and job growth," stated Deloitte's U.S. telecommunications sector leader Craig Wigginton in a press release. "For this, the U.S. must not only head off a spectrum shortage, but show the way in adopting a policy framework that can better meet the requirements of the 21st century marketplace."
In "Airwave overload? Addressing spectrum strategy issues that jeopardize U.S. mobile broadband leadership," Deloitte introduces a metric to measure progress: the Mobile Communications National Achievement Index (MCNAI). Based on 15 indicators, the MCNAI tracked "the vitality and competitiveness of national wireless sectors in 20 countries from 2004 to 2011.
Index scores revealed that while the U.S. maintains a leadership position in 4G mobile broadband innovation, its lead is shrinking. China, India, Japan, Singapore and South Korea are all investing heavily to upgrade their wireless broadband infrastructure. They've made "steady gains over the last decade with government support and investment through tax incentives, research and development (R&D) funding, and end-user subsidies," Deloitte notes.
Mobile broadband demand in the U.S. threatens to overwhelm the system despite best efforts to date to avoid it on the part of the federal government and mobile broadband carriers, according to Deloitte. The burden on mobile networks is only to grow, and fast, as usage increases across a wide range of sectors, including automotive telematics, vehicle traffic management and mobile health care. Running into capacity constraints would slow U.S. economic growth and "open the door for competitors to gain ground."
Deloitte's report includes a checklist of steps it believes should be taken in order for the U.S. to maintain its leadership position in 4G mobile broadband innovation:
Develop an official U.S. spectrum strategy aimed at resolving policy ambiguities that hamper effective mobile broadband decision making.
Treat the costs incurred in making sufficient spectrum available for commercial mobile broadband as investments with a return that is realized over time in the form of increased GDP and tax revenue.
Make a successful television broadcast spectrum auction a top priority toward meeting the 2020 goal of freeing up 500 MHz of spectrum for mobile broadband.
Expand government funded or supported R&D efforts to explore the potential of spectrum sharing as a means to boost mobile broadband capacity.
Continue to leverage traditional auctions combined with viable secondary markets to ensure not only an adequate supply of spectrum but also that spectrum is used with maximum efficiency and timeliness.
Allocate spectrum in large blocks based on technically-driven criteria to alleviate constraints caused by the crowded, fragmented legacy-spectrum zoning map.
Conduct principles-based license renewal reviews as a means to ensure that license holdings and spectrum policies are aligned with changing technological and economic realities.
"To secure U.S. leadership, carriers need to keep up with the surge in 4G demand fueled by a multitude of innovative devices and an explosion in applications," continued Dan Littmann, principal at Deloitte Consulting LLP. "And to do that the carriers need more spectrum, which means finding ways for government to reallocate frequencies now used by various private-sector entities and government agencies. Otherwise, we risk losing jobs and profits to global competitors."
"While the U.S. currently leads the world in mobile broadband, the aim should be to remain number one – not become one of the top ten – unfortunately policy gray areas make spectrum reorganization a threat to this lead," added Deloitte Consulting director Phil Wilson.