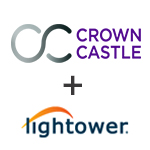 Crown Castle Internajtional today announced that it has agreed to acquire LTS Group Holdings LLC – Lightower – for about $7.1 billion in cash. The Crown Castle Lightower acquisition will provide Crown Castle with about 32,000 route miles of fiber in the New York City, Boston, Philadelphia and other metro areas. The holdings focus on the Northeast.
Lightower is currently held by investors including Berkshire Partners, Pamlico Capital, and others.
Crown Castle Lightower Acquisition
"Lightower's dense fiber footprint is well-located in top metro markets in the Northeast and is well-positioned to facilitate small cell deployments by our customers," said Jay Brown, Crown Castle's Chief Executive Officer, in a press release. "Following the Transaction, we will have approximately 60,000 route miles of fiber with a presence in all of the top 10 and 23 of the top 25 metro markets."
The press release provided four rationales for the acquisition. Two are operational. The deal, if it is completed, will make the company one of the largest owners of metro fiber in the country. This, the release says, will position the company to capitalize on demand for mobile communications. It also positions the company for small cell deployments.
The other two rationales were financial: Crown Castle said it would be accretive to its adjusted funds from operations (AFFO) per share. It says that Lightower has as a "proven track record of execution of high-quality cash flows."
5G technology will rely, to a great extent, on high frequency millimeter wavelength transmissions, tied to an underlying deep fiber network. These signals are short range and easily distorted or blocked by structures, trees and rain. This has led to variety of 5G preparation activity among tower and related infrastructure providers, including fiber network operators. In April, Crown Castle entered into an agreement to acquire Wilcon Holdings from Pamlico Capital and others for about $600 million. Wilcon owned about 1,900 route miles, mostly in the Los Angeles and San Diego markets. Last October, Lightower added 120 miles of fiber to its existing network in Raleigh, NC. It also said that it would deploy more than 90 miles in Charlotte.