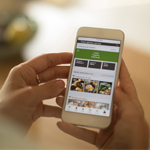 Globally, although fixed broadband networks have been most impacted by the COVID-19 pandemic, mobile networks also have seen increased usage, according to the latest Ericsson Mobility Report, released today. The report found that fixed broadband usage increased an average of two and a half hours a day, while COVID-19 mobile usage, on average, increased about one hour per day.
The pandemic and resultant stay at home orders also impacted traffic patterns from a geographic perspective. "As people spent more time online at home, network traffic loads shifted geographically from city centers and office areas to suburban residential areas," Ericsson researchers wrote.
They also noted that "in markets with limited penetration of fixed residential networks, the mobile data demand increase was especially high."
Consumers Value ICT
Consumers are finding value in information and communications technology (ICT) during COVID-19, Ericsson reports. The company surveyed smartphone users in 11 developed countries, including the U.S. and found that 83% of respondents said ICT helped them a lot, in one way or another, to cope with the lockdown that resulted from the pandemic.
ICT was most helpful in enabling children to access education (with 76% of parents saying ICT helped a lot in that regard), followed by staying in touch with family and friends (74% of respondents) and doing my job (67% of white collar workers.)
Asked about the importance of various service provider actions during COVID-19, respondents ranked maintaining service resilience and quality number one, with 64% saying it was very important and 34% saying it was somewhat important. Offering free data and minutes for doctors and nurses came in second, with 95% of respondents saying it was important, including 59% who said it was very important. Waiving late payments was third, with 52% of respondents saying it was very important and 43% saying it was somewhat important.
Many U.S. service providers agreed to waive late fees during the COVID-19 pandemic as part of the FCC Keep Americans Connected pledge. The move reflected the reality that many people were unable to work during the lockdown, including some who are still out of work even as states begin to relax stay at home orders.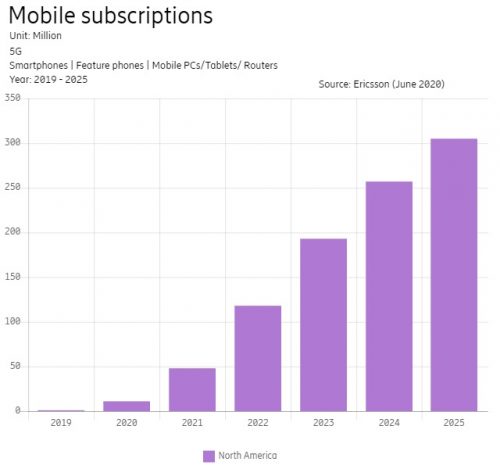 Service Forecasts
In addition to studying COVID-19 mobile usage, the Ericsson researchers looked at other areas as well. Other key findings of the new Ericsson Mobility Report:
Ericsson expects to see 190 million 5G subscriptions by the end of 2020.
There were 5.5 billion smartphone subscriptions at the end of 2019, which researchers expect to rise to 7.5 billion in 2025.
The LTE penetration in North America is 92%.
By year-end 2025, the researchers expect close to 325 million 5G subscriptions in North America, where 5G will represent 74% of mobile subscriptions.
VoLTE will represent 3 billion mobile subscriptions by the end of 2020.
Mobile traffic is expected to grow by 31% annually between 2019 and 2025. Most of the growth will come from video traffic.