The smart speaker penetration rate increased by more than 50% or seven percentage points in just four months, according to comScore.
At the beginning of December, slightly more than 13% of WiFi homes had smart speakers. That percentage now is at 20%, or 18.7 million homes. Susan Engleson, the Senior Director of Emerging Products for comScore calls that number "astounding" in a company blog post. The penetration rate among U.S. WiFi homes indeed is striking: June, 2017 (8%); July (10%); August (10%); September (11%); October (11%); November (12%); December (17%); January, 2018 (19%) and February (20%).
Smart Speaker Penetration Rate
The holiday shopping season was a big booster. That bump was set up by low prices and product introductions. The Google Home Mini was introduced on October 19 and the price kept at $29 through the holiday seasons, for instance. Amazon introduced the Echo, Echo Plus, Echo Show, Echo Spot and Echo Look prior to the holidays as well. The Echo Dot was introduced and also priced at $29 through the holidays.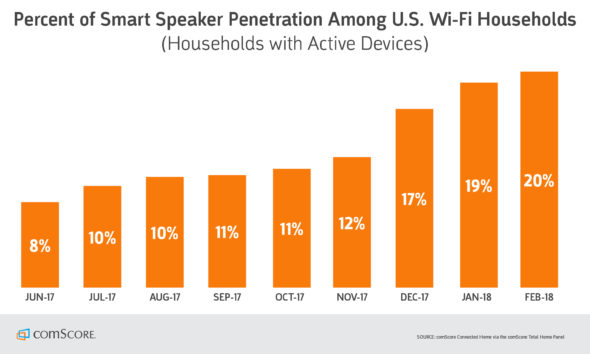 The start of the shopping season was a key time. "The increased penetration in November came from smart speakers figuring prominently in Black Friday advertising and promotions, which afforded brick-and-mortar retailers a share of the sales of these decidedly digital devices," Engleson wrote in the post.
She added that Walmart only sold Google devices, which hurt Amazon's progress. Apple didn't introduce the HomePod until early in February, so it didn't have a holiday season at all in the category. The high price tag — $399 – suggests to Engleson that sales of the device will grow more slowly and target Apple devotees.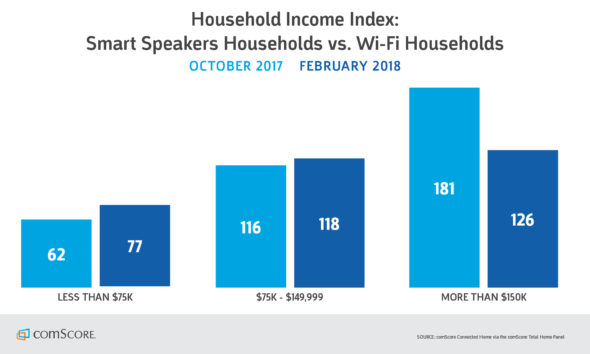 The even better news for the category is that the demographics are shifting from early adopters to what Engleson calls the early majority. "As of February 2018, smart speaker ownership was almost equivalent in homes with the youngest (18-to-24-year-olds) and oldest (65+) adult segments. I can imagine in just or a year or two, a smart speaker will be a must-have for incoming college freshmen."
In August, Gartner said that the market for wireless speakers enabled by virtual personal assistants will grow from $720 million in 2016 to $3.52 billion in 2021