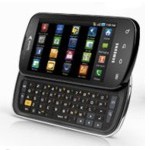 Google's Android mobile OS has come in top of the latest quarterly charts with a 36.4% share of the US smartphone market, a 5.2 point gain, while Samsung, at 24.5%, down 0.4 percentage points, continues to hold more subscriber market share than any other smartphone OEM, according to stats from comScore's MobiLens service. In total, 234 million Americans aged 13 and up used mobile devices and 74.6 million owned smartphones— a 13% quarter-to-quarter increase– during the latest three-month survey period, which ended April.
Ranking behind Android, Apple's mobile iOS gained 1.3 market share points from January to April to capture 26% of US smartphone subscribers. RIM's mobile OS came in third with a 25.7% market share, down 4.7 percentage points. Microsoft and Palm rounded out the top 5 with 6.7% and 2.6% market shares, down 1.3 and 0.6 points, respectively.
Ranking second behind Samsung among OEMs, LG captured 20.9% of the US smartphone market in the quarter to April, a 0.1 percentage point gain. Motorola came in third with a 15.6% share, down 0.9 points with Apple, at 8.3%, and RIM, at 8.2%, rounding out the top five, up 1.3 and down 0.4 market share points, respectively.
Smartphone subscribers are increasingly using their Internet-enabled devices to text, browse, download apps, access social networking and blog sites, play games and listen to music, according to the latest MobiLens' stats. 68.8% used them to text, up 0.7 points, while 39.1% browsed the Internet, up 2.1%. 37.8% used their smartphones to download apps, a 2.4 percentage point increase, while 28% accessed social networking or blog sites, up 2.7 points. 26.2% used their smartphones to play games, up 2.5 points, and 18% used them to listen to music, a gain of 1.5 percentage points.