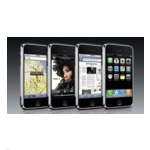 Apple continued as the leading smartphone manufacturer in the U.S., capturing a 39.2% OEM (Original Equipment Manufacturing) market share for the three months ending May 2013, says comScore. With 52% of the U.S. smartphone market, Google Android ranked as the #1 smartphone platform provider, according to comScore's MobiLens service.
In the U.S., 141 million people owned smartphones during the three months ending May 31, a mobile market penetration of 59%. That's up 6% from February's level, according to comScore's latest MobiLens report.
Among smartphone OEMs, Apple's market share rose 0.3% from February. At 23%, second-ranked Samsung's rose 1.7%. HTC followed in third with an 8.7% market share, Motorola fourth at 7.8% and LG fifth at 6.7%.
Among smartphone platforms, Android's 52.4% of J.S. smartphone subscribers was 0.7% higher than in February. Apple's 39.2% was up 0.3%, while BlackBerry continued to lose market share during the most recent three-month period, down 0.6% to 4.8% overall. Microsoft lost 0.2%, ending the period with a 3% share of subscribers, while Symbian's share was down 0.1% to 0.4%.