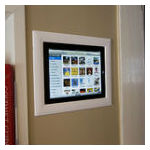 Coldwell Banker Real Estate LLC delves into smart home technology in new market research – what features home buyers are looking for and the impact such features have on a home's sale. The real estate agency also released a list of 25 smart home products and systems spanning categories of greatest importance to home buyers.
According to a Coldwell Banker news release the proliferation of smart home technology "is not only changing the way Americans live, it's also changing their tastes and expectations when shopping for real estate – so much that making your home 'smart' may be smarter than you think.
"Smart home technology will soon be expected in homes, just like stainless steel and granite are the norm across properties today," Travis Gray, a sales associate affiliated with Coldwell Banker Residential Brokerage in Annapolis, Md. was quoted in the news release.
"In three to seven years, I foresee homes being completely outfitted with smart technology – for improving both functionality and lifestyle in our homes."
Interest in Smart Home Technology
Surveying over 500 of its affiliated sales associates, Coldwell Banker found that home buyers are most interested in the following categories of smart home technology:
Security (65 percent of sales associates agree);
Temperature control (57 percent);
Safety (48 percent);
Lighting (46 percent);
Entertainment (42 percent);
Appliances (23 percent).
Responses from sales associates also revealed that:
Buyers are asking, "How smart is this home?": Nearly two in three (64 percent) of the sales associates surveyed agreed that buyers today are more interested in homes with smart home features and technology than they were two to five years ago.
Buyers want to control their home from their smart phone : 62 percent are seeing more buyers interested in controlling their home technology through their smart phone or tablet now than they were two to five years ago.
Listings are getting smarter: Nearly 60 percent said they are seeing more smart home features in listings than they did two to five years ago.
Smart homes sell faster: One in three (33 percent) noted that homes with smart home features and technology sell faster than homes without them.
Gen X is the "smartest" generation of home buyers today: While it's no surprise that almost half of sales associates are seeing Millennials (age 18-24) interested in homes with smart home features, even more (57 percent) identified Gen X (age 35-49) as the top buying group interested in smart home technology.
"After being on the ground at this year's Consumer Electronics Show, it was clear that the connective tissue of smart technology in the home is entering the mainstream," added Coldwell Banker Chief Marketing Officer Sean Blankenship. "Smart homes are solving many consumer and societal needs when you consider all of the security, energy efficiency and entertainment advantages that come along with a connected home.