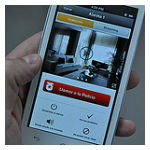 Multinational giants in their respective fields, ABB, Robert Bosch GmbH and Cisco Systems are teaming up to establish an international joint venture (JV) that aims to develop "an open protocol smart home software platform for all home appliances, devices and services."
Dubbed Mozaiq Operations, the new JV will bring "Internet of Things, Services and People into consumers' homes, making it easy and secure for a wide range of products to communicate with each other," ABB states in a news release.
Moreover, Mozaiq's anticipated smart home software platform "will help unify today's stand-alone solutions for home automation and offer interoperability across devices."
Mozaiq Smart Home Joint Venture
Interoperability is a thorny issue in the emerging market for smart home technology. A host of companies from a wide range of businesses see great opportunity in the smart home market space. For smart home platform providers, establishing a position as a de facto industry standard has thus far taken precedence over any attempt at establishing any one clear, broadly accepted standard for interoperability.
ABB, Bosch and Cisco bring their respective strengths to the Mozaiq Operations JV. ABB, for instance, "has a comprehensive range of solutions for residential and commercial buildings and is committed to driving innovation in this exciting space," Tarak Mehta, who leads ABB's Low Voltage Products Division, was quoted in the news release. "Collaborations such as Mozaiq will ensure that consumers have faster access to the best-possible technology."
Being able to exchange data and information across smart home devices, appliances and supporting services from any and all brands and vendors could be critical to the development and growth of the market and industry ecosystem. With Mozaiq ABB, Bosch and Cisco intend to build a smart home software platform that will support "a range of new services by facilitating the simple, but secure exchange of data between different types of devices and their users," the partners say.
Moreover, by developing the Mozaiq smart home platform, ABB, Bosch and Cisco aim to create "a business ecosystem…facilitate cooperation and accommodate stakeholders' varying demands and perspectives."
Based in Frankfurt, Cisco Internet Business Solutions' Dirk Schlesinger is to serve as interim head of Mozaiq Operations.
Image courtesy of flickr user Domoalert Smart Life Quality.