Consolidated Communications has won more than $150 million in broadband funding since 2019 and that funding is "a key component as we continue our expansion," said Consolidated President and CEO Bob Udell on the company's first quarter earnings call this morning.
"When synched with our fiber builds, these governmental funding opportunities help to offset rural high-cost passings, allowing us to maximize economies of our builds for complete areas," he said.
Udell reminded listeners that the company has had a considerable number of public/private partnership wins.
"We've earned a very positive report with our previous public/private partnership wins, which in turn lead to new opportunities in neighboring communities," he said.
As of the end of first quarter, Consolidated was "tracking" nearly $140 million of additional government broadband partnership opportunities, which was up by $40 million from the previous quarter. Apparently by "tracking" Udell meant that Consolidated has applied for $140 million in funding.
The $140 million doesn't include any potential opportunities from the $42.5 billion Broadband Equity Access and Deployment (BEAD) program, Udell said. BEAD opportunities are expected to come to market over the next 12 months, he noted.
Government funding, along with increased broadband take rates, have enabled Consolidated to be quite aggressive in deploying fiber, Udell said.
Just over one million locations, representing about 40% of the total, now have fiber available, up from 10% in 2020. By mid-2026, Consolidated expects to have fiber available to 70% of its base.
The company expects to see fiber take rates ramp up to the 40% range within five years of a build, growing from 14% in the first year to 24% in the second year and 33% in the third year.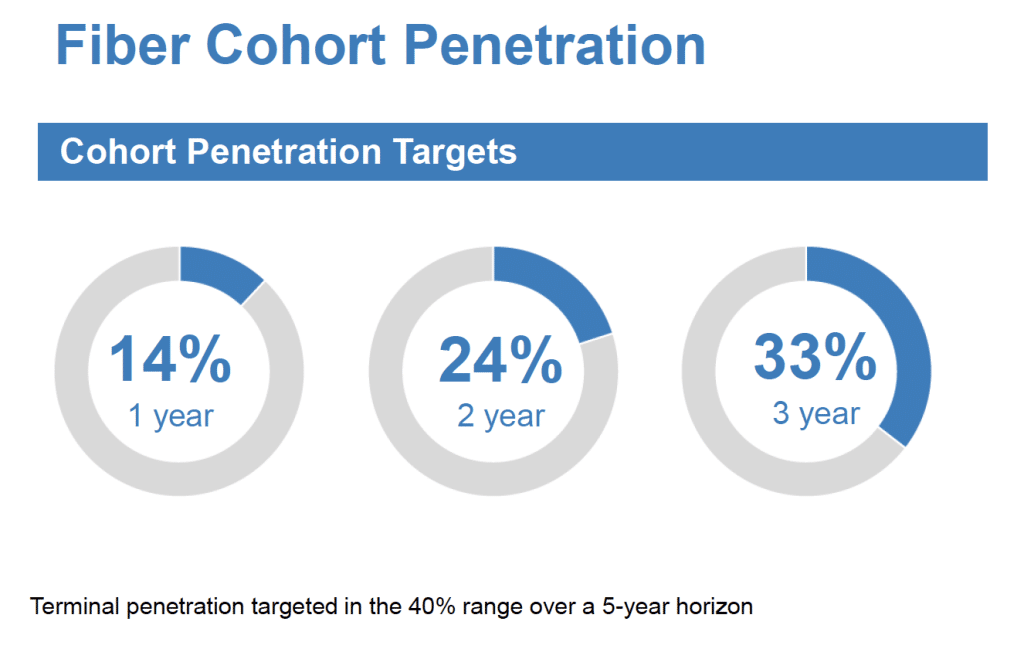 Udell also noted that over 70% of new Consolidated subscribers are purchasing service at speeds of 1 Gbps or more and that the company is seeing an uptick in 2 Gbps subscriptions.
Consolidated declined to discuss a proposed acquisition by two private investment firms that would take the company private, citing legal restrictions.
A conference call replay is available at this link.