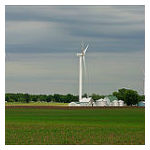 The FCC said today that it expects to conduct a reverse auction of up to $1.98 billion in Connect America Fund (CAF) money in 2018, which will go toward the cost of bringing broadband to rural areas lacking broadband service. CAF auction funds are to be dispersed over a 10-year period.
The commission proposed enabling various types of service providers to bid in the CAF auction and recommended that providers be allowed to bid at the census block level.
Areas eligible for the CAF auction include rural areas where one of the nation's largest price cap carriers is the incumbent telecom services provider and where that carrier declined to provide broadband service at the level of support offered by the FCC.
The FCC's CAF auction proposal came in the form of a public notice adopted at today's monthly commission meeting. Some initial details have been provided by the FCC. Winning bidders must offer at least one voice and one broadband service meeting the relevant service requirements to the required number of locations. Per end user rates, they must be reasonably comparable to similar offerings in urban areas. Deployment timelines must conform to the following (but actual timelines are determined by the individual winning bidder)broad schedule:
40 percent of the required number of locations in a state by the end of third year of support
An additional 20 percent in each subsequent year
100 percent by the end of the sixth year of support
CAF Auction Proposal
The CAF auction proposal calls for a multi-round reverse auction that would use the support levels offered to the price cap carriers as the reserve price. The initial round would award funding to bidders that offer to provide service at a level equal to a certain percentage of the reserve price. In subsequent rounds the percentage would increase until all funds are awarded or no bids remain, officials explained at today's meeting.
Today's public notice seeks comment on the proposed application and bidding procedures for the auction, including how interested parties can qualify to participate in the auction, how bidders will submit their bids, and how the FCC will process bids to determine the winners and support amounts, an FCC press release said. More details regarding the CAF auction are available here.
FCC Chairman Ajit Pai said he anticipates the CAF auction drawing new types of service providers that never received Universal Service funding before such as electric cooperatives, fixed wireless providers and satellite providers.
Image courtesy of flickr user Tom Gill.