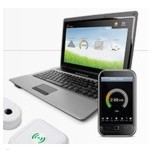 The number of machine-to-machine (M2M) devices connected to the Internet via cellular networks reached 265.2 million this year, up 23 percent year over year, according to Berg Insight. North America ranked third regionally worldwide, with 52.5 million M2M cellular subscriptions.
Looking ahead, Berg expects the installed base of cellular M2M subscriptions to increase at a 22.9 percent CAGR, reaching 1 billion in 2022.
Beyond M2M Cellular Subscriptions
Leading telecom companies are beginning to realize substantial revenues from the rapid growth, according to Berg. Among them, both Verizon and Vodafone reported quarterly M2M/IoT revenues in the range of 150-200 million euros ($163 million to $218 million) in 1H 2015. That could exceed 1 billion euros for each company on an annual basis in a few years, Berg believes.
Both companies acquired companies that gave them a presence in the fast growing market for telematics, Berg points out. Sales to automotive industry participants account for a sizable share of both Verizon's and Vodafone's M2M/IoT revenues.
Notable among M2M/IoT industry trends, carriers are phasing out 2G networks and deploying more efficient 4G network infrastructure. Meanwhile, telecom industry participants are improving LTE to better support M2M applications, which typically involve large numbers of devices and very low data transfer requirements.
Mobile telecom industry players joining to establish common low-power wireless network standards also bodes well for growth prospects. 3GPP accepted the NB-IoT standard this month, and Berg believes the standard will be included in 3GPP Release 13, which is expected to be published in January, 2016.
That will go a long way towards establishing NB-IoT as a global low-power wireless networking standard for lightweight IoT communication on public networks over the ensuing three to five years, Berg says.