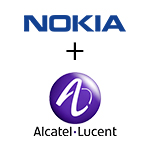 Word that Nokia and Alcatel-Lucent were close to a merger agreement has proven true. The two companies today announced "their intention to combine to create an innovation leader in next generation technology and services for an IP connected world." The combined company will be called Nokia Corporation, with headquarters in Finland and a strong presence in France, today's announcement press release noted.
Risto Siilasmaa, current Nokia chairman, will be the chairman of the merged company and Rajeev Suri, current Nokia president and CEO, will be CEO. The combined company's Board of Directors is planned to have nine or ten members, including three members from Alcatel-Lucent, one of whom would serve as vice chairman.
According to an email sent to Alcatel-Lucent employees obtained by Telecompetitor, the combined company will gain the "number one or number two position in each of the technologies that matter in our industry."
The merger, which requires regulatory approvals, is expected to close in the first half of 2016.
The Nokia/ Alcatel-Lucent Merger Plan
Commenting on the merger plan in today's release,  Suri said: "Together, Alcatel-Lucent and Nokia intend to lead in next-generation network technology and services, with the scope to create seamless connectivity for people and things wherever they are. Our innovation capability will be extraordinary, bringing together the R&D engine of Nokia with that of Alcatel-Lucent and its iconic Bell Labs. We will continue to combine this strength with the highly efficient, lean operations needed to compete on a global scale."
According to the internal memo, the Bell Labs brand is expected to be retained to "host the new company's networks-focused innovative activities."
Added Alcatel-Lucent CEO Michael Combes: "A combination of Nokia and Alcatel-Lucent will offer a unique opportunity to create a European champion and global leader in ultra-broadband, IP networking and cloud applications. I am proud that the joined forces of Nokia and Alcatel-Lucent are ready to accelerate our strategic vision, giving us the financial strength and critical scale needed to achieve our transformation and invest in and develop the next generation of network technology."
The Alcatel-Lucent internal memo referred to the merger as "the next logical step of our Shift Plan." The first chapter of that plan, the memo said, was "about restoring the competitiveness of our company through our restructuring, refinancing and refocusing efforts." The second chapter was "the definition and launch of our innovation, transformation and growth strategy."
The memo also noted that the merger will give Alcatel-Lucent "the financial strength to build a successful and sustainable future."
Combined, Nokia and Alcatel-Lucent spent 4.7 billion euros (~$4.98 billion) and employed over 40,000 in R&D in 2014. The combined company "will be in a position to accelerate development of future technologies including 5G, IP and software-defined networking (SDN), cloud, analytics as well as sensors and imaging," according to today's press release.
Company managements cited the benefits of the merger with regard to the fast emerging Internet of Things (IoT): "The combined company will be uniquely positioned to create the foundation of seamless connectivity for people and things wherever they are. This foundation is essential for enabling the next wave of technological change, including the Internet of Things and transition to the cloud."
The two companies also fit well when it comes to technology and geography, today's press release noted. The merger "will also bring together the best of fixed and mobile broadband, IP routing, core networks, cloud applications and services," the release said.
Financial Details
Other key facets of the merger put forth include:
As per a Memorandum of Understanding (MoU) Nokia is to make an offer to purchase all of Alcatel-Lucent's outstanding shares via a public exchange offer in France and the U.S. The all-share transaction values Alcatel-Lucent at 15.6 billion euros (~$16.54 billion), which equates to a fully diluted premium of 34 percent, or 4.48 euros (~$4.75) per share, the companies calculate.
According to the MoU, Nokia will offer each Alcatel-Lucent shareholder 0.55 new Nokia shares for each share of Alcatel-Lucent. Alcatel-Lucent's NYSE-listed ADRs were trading at $4.05, down around 18 percent, early

Wednesday

a.m. (April 15). Nokia's ADRs were down around 2.75 percent, trading at $7.73.
The premium to Alcatel-Lucent shareholders comes in at 28 percent, equivalent to 4.27 euros (~$4.53) per share. These figures are based on the three-month weighted average closing price of Alcatel-Lucent's shares over the past three months and the closing price of Nokia's shares on April 13, which was 7.77 euros (~$8.24).
Alcatel-Lucent shareholders would own 33.5% of the fully diluted share capital of the combined company, and Nokia shareholders would own 66.5%, assuming full acceptance of the public exchange offer;
Assuming the closing of the transaction in the first half of 2016 the combined company would target approximately EUR 900 million of operating cost synergies to be achieved on a full year basis in 2019, and  approximately EUR 200 million of reductions in interest expenses to be achieved on a full year basis in 2017;
The transaction is expected to be accretive to Nokia earnings on a non-IFRS basis (excluding restructuring charges and amortization of intangibles) in 2017;
A strong financial profile on which to grow and invest: on a FY2014 combined basis, the proposed company would have had net sales of EUR 25.9 billion, a non-IFRS operating profit of EUR 2.3 billion, a reported operating profit of EUR 0.3 billion, R&D investments of approximately EUR 4.7 billion, and a strong balance sheet with combined net cash at December 31, 2014 of EUR 7.4 billion, assuming conversion of all Nokia and Alcatel-Lucent convertible bonds (for basis of preparation see Appendix 2.