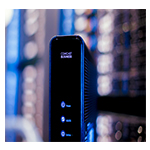 The U.S. ranked thirteenth  in a new study of residential broadband costs by country. The study was conducted by Internet and telecommunications market research specialist Point Topic. Researchers analyzed more than 5,000 fixed broadband tariff rate schedules spanning more than 300 operators in 94 countries.
Using purchasing power parity (PPP) to adjust broadband subscription prices for differences in benchmark living costs across countries, Point Topic analyzed broadband prices and speeds for entry level, median and average price schedules for Internet services as of 2Q 2016.
The U.S ranked 10th in entry-level, 41st in median and 44th in average broadband tariff rank.
Residential Broadband Costs by Country
According to Point Topic, the average monthly charge globally for residential broadband services was $104 in Q2 2016, up slightly from $101 in Q1 2016. Other findings of the research include:
Both the average cost and bandwidth of residential broadband services continued to increase in Q2 2016
The average cost per megabit continued to decrease over the three-month period;
The average monthly charge for business broadband services dropped significantly while average bandwidth increased;
Average prices for business Internet services dropped substantially;
Asia-Pacific offers the fastest services for both residential and business broadband, while average bandwidth increased in 2Q as well.
Average monthly 2Q broadband charges for businesses across the 300 providers surveyed came in at $197, down substantially from $210 in 1Q 2016. Average bandwidth rose to 81 Mbps, up from 73 Mbps in 1Q'16. In terms of cost per megabit, business broadband service prices averaged $2.45 in 2Q, down from $2.87 as of end-March.
Business broadband tariffs were lowest in the Americas and Europe and highest in the Middle East-Africa region, according to Point Topic's 2Q market data.
In terms of average broadband speeds, Asia-Pacific came out on top in 2Q, with Point Topic reporting a regional average speed of 289 Mbps, up from 265 Mbps in the previous quarter.
Within this market segment, the cost of business fiber broadband products and services rose while the average price of cable connections dropped slightly.
Cable companies dropped broadband tariffs and boosted average bandwidth in an attempt to get a leg up on the competition in 2Q, Point Topic commented. The average monthly business tariff for copper services dropped sharply from $171 to $149 on a sequential quarterly basis.
Fiber broadband providers raised average networks speed from 120 Mbps in 1Q to 133 Mbps in 2Q in a bid to justify raising average broadband subscription rates.