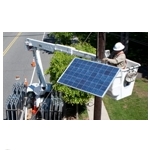 AT&T made a couple of important moves involving the Internet of Things this week, including a deal with Globecomm to provide integrated cellular plus satellite service for IoT applications. Additionally AT&T announced it had entered into an agreement with SunPower – an integrated solar power company – to incorporate IoT technology in SunPower's latest home energy solution, SunPower Equinox. The carrier also said it will collaborate with SunPower to co-market SunPower's home solar system to qualified AT&T customers this summer.
Integrated Cellular Plus Satellite Service
The deal with Globecomm aims to enable businesses to better track assets worldwide, including in remote, isolated areas where cellular service is limited or unavailable. Tractors in farm fields or remote construction sites, generators in desert areas or oil pipelines in remote regions – companies have assets in hard-to-reach places that require continual monitoring and maintenance, AT&T points out.
Elaborating, management explains that IoT devices will connect to a cellular network when a signal is available and then automatically switch to a satellite connection when it isn't. The integrated cellular plus satellite service will eliminate the need for companies to purchase satellite and cellular services separately.
"We're offering a one-stop shop for IoT connectivity," VP of AT&T IoT Solutions Mike Troiano was quoted as saying. "Our customers now have a flexible, reliable and highly secure service to monitor their assets nearly anywhere. They don't have to choose one connectivity solution over the other – they can have the full package."
Gartner forecasts more than 6.4 billion ¨things¨ will be connected to the Internet globally this year, a 30% increase, AT&T notes. Markets and Markets expects IoT devices connected to satellite communications services will increase 9.8% year-over-year over the next four years.
"Businesses want more real-time visibility into their assets on a global scale," Globecomm's SVP, Product and Corporate Strategy Jon Kirchner added. "We're working with AT&T to offer near-seamless connectivity over a single platform. We're helping businesses collect and analyze critical information wherever their assets are – to generate operational improvements and hard ROI – on land or at sea."
The SunPower Deal
AT&T's agreement with SunPower highlights the importance of the robust, secure and highly reliable data communications that energy and power industry companies are looking to IoT technology to provide. The solar power company recently introduced its SunPower Equinox home solar system in the U.S., calculating that the system delivers 70% more energy over a 25-year lifecycle with 70% fewer visible parts as compared to conventional solar photovoltaic (PV) systems.
AT&T and SunPower anticipate deploying wireless connections to at least 100,000 solar electric systems in the U.S. over the next two years.
That will provide SunPower customers with access to performance data via AT&T's IoT services. It will also save money, both for SunPower and its customers, by reducing the need to send field staff to customers' homes, AT&T highlights.
"Through this IoT collaboration and innovative marketing with AT&T, we are making solar even more mainstream," Howard Wenger, SunPower president, business units, was quoted. "The SunPower Equinox system is already a game changer for home solar, offering our customers unbeatable power, long-term performance and curb appeal. Now by incorporating AT&T IoT technology into SunPower's solar energy solutions, we are enabling a future of solar energy management that is reliable, simple, and cost-effective."