Press Release
JACKSON, Miss., Oct. 25, 2017 /PRNewswire/ — AT&T Fixed Wireless Internet1 is now available in additional rural and underserved locations in select areas of 46 counties in Mississippi.
In July 2017, AT&T announced an initial launch of Fixed Wireless Internet in parts of 15 Mississippi counties. The service has expanded to now being available in select areas of 46 counties across the state.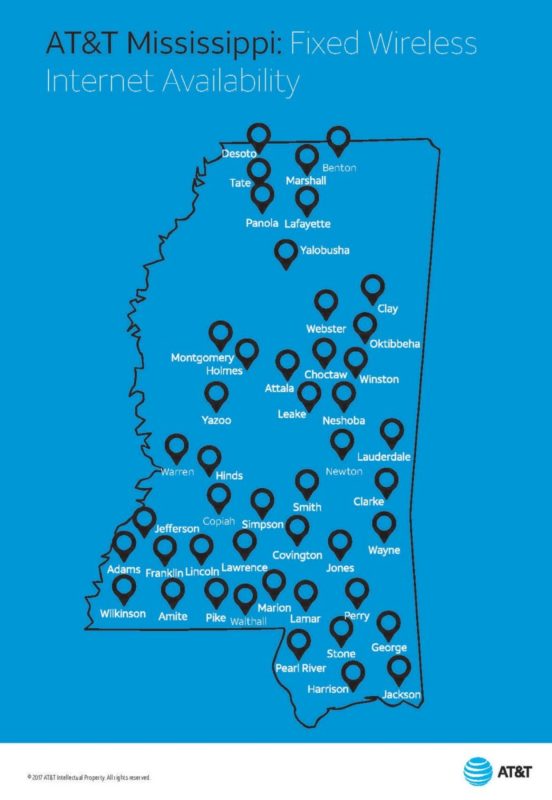 AT&T's Fixed Wireless Internet service delivers a home internet connection with download speeds of at least 10Mbps. Now customers can download, surf and stream their favorite movies or television shows. The connection comes from a wireless tower to a fixed antenna on customers' homes or businesses. This is an efficient way to deliver high-quality internet to customers in rural and underserved areas.
Parts of the following 46 counties in Mississippi are now eligible for Fixed Wireless Internet service from AT&T: Adams, Amite, Attala, Benton, Choctaw, Clarke, Clay, Copiah, Covington, DeSoto, Franklin, George, Harrison, Hinds, Holmes, Jackson, Jefferson, Jones, Lafayette, Lamar, Lauderdale, Lawrence, Leake, Lincoln, Marion, Marshall, Montgomery, Neshoba, Newton, Oktibbeha, Panola, Pearl River, Perry, Pike, Simpson, Smith, Stone, Tate, Walthall, Warren, Wayne, Webster, Wilkinson, Winston, Yalobusha and Yazoo.
AT&T has extended Fixed Wireless Internet as part of its FCC Connect America Fund commitment to help rural and underserved areas. AT&T plans to reach nearly 133,000 locations with this technology across Mississippi by 2020. As a part of this rollout, AT&T plans to reach over 400,000 locations nationwide by the end of 2017, and over 1.1 million locations nationwide by 2020.
"Fixed Wireless Internet service is innovative technology that is helping close the connectivity gap in many rural areas across our state," said Mayo Flynt, state president of AT&T Mississippi. "With more than 2,800 men and women working for AT&T who call Mississippi home, we are committed to meeting the demands for more broadband connectivity for residents and businesses in rural areas. That's why we're pleased to announce this service expansion to parts of 46 counties in Mississippi."
In order to determine if Mississippi residents can order the service, they can call toll-free 1-877-990-0041. AT&T will continue making community-specific announcements in Mississippi in the upcoming weeks and months ahead. We'll provide updates about additional availability in parts of Mississippi, and other states, as we expand Fixed Wireless Internet to more locations. For more information on Fixed Wireless Internet from AT&T, visit att.com/internet/fixed-wireless.html.
In addition to Mississippi, AT&T has launched Fixed Wireless Internet service in 17 additional states including Alabama, Arkansas, California, Florida, Georgia, Illinois, Indiana, Kansas, Kentucky, Louisiana, Michigan, Mississippi, North Carolina, Ohio, South Carolina, Tennessee, Texas and Wisconsin.
1Includes 160GB data allowance per month. Req's installation of AT&T outdoor antenna & indoor Residential Gateway. $10/50GB of additional data up to a max of $200/mo.
Cautionary Language Regarding Forward Looking Statements: Information set forth in this news release contains financial estimates and other forward-looking statements that are subject to risks and uncertainties, and actual results may differ materially. A discussion of factors that may affect future results is contained in AT&T Inc's filings with the Securities and Exchange Commission. AT&T disclaims any obligation to update or revise statements contained in this news release based on new information or otherwise.