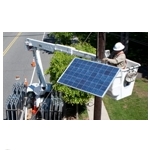 In another instance of the growing influence of SmartGrid on telecom, AT&T will sell Petra Solar's Utility Grade SunWave UP Series products to utilities, it announced this week.  The agreement comes out of  AT&T's "Advanced Enterprise Mobility Solutions," which is "working across 14 industries to help enable business model transformation through mobile applications, machine-to-machine solutions and mobile services.
Designed for mounting atop utility poles and streetlights, Petra's products are designed to act as individual power stations  when networked provide utilities more responsive and efficient grid management.  AT&T's wireless network would be used for communications, remote monitoring, automated meter reading and outage detection, according to a blog post.
Petra Solar's Utility Grade UP panels are increasingly found mounted on utility poles in New Jersey, the result of Petra closing a $200 million deal with PSE&G to generate 40MW of power through its SunWave systems.
In a related development, it was rvealed that AT&T's wireless network now enables two-way communications with over 7.5 million electricity meters.
Interested in this topic? Check out our upcoming SmartGrid Forum conference.