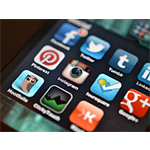 Some 110,000 new software application development jobs were created across the App Economy ecosystem in the U.S. from May 2014 through May 2016, according to the U.S. Bureau of Labor Statistics, and reported in a new app economy job creation study from ACT – The App Association. And some 500,000 computing jobs remain unfilled. The "app economy ecosystem" generates more than $143 billion in revenues worldwide while continuing to transform the way business is done and life is lived, notes ACT highlights in its fifth annual "App Economy Report."
Developing, marketing, selling and use of mobile apps is a major engine for local economic development and national job creation. Five additional jobs are created for every one created in the U.S. App Economy, researchers said. Much of that hiring takes place outside of the U.S.' principal high-tech hub. The vast majority of app development companies (83%) are found outside Silicon Valley.
Nearly 9 in 10 U.S. software developers live outside the area, ACT notes. Significantly, app development business growth extends to rural areas, where 13 percent of leading app companies are located.
App Economy Job Creation
Social media and gaming apps continue to fuel App Economy growth, but app use has expanded well beyond these market segments. Mobile apps are now widely used in business, industry and government. Moreover, the fast growing "Internet of Things" (IoT) industry and market wouldn't be possible without mobile apps, ACT points out.
Mobile apps have been a key driver in the shift away from desktop and laptop to mobile computing and communications. There are more connected devices in the U.S. – an estimated 350 million – than there are people. The same is true globally, where the estimated global population of connected devices totals some 8.4 billion, according to ACT. That compares to a latest estimate that pegs the human population at 7.5 billion.
When it comes to app downloads, more than 90 billion were downloaded worldwide in 2016. Direct revenues in the U.S. rose to reach $51 billion in 2016 as a result. Projections call for that to rise to $100 billion by 2020.
Demand for app developers far outstrips supply. The average annual salary for those with computer science training comes in at $102,160, yet just 1 in 4 K-12 schools teach computer science, ACT highlights.
Manufacturing, healthcare, agriculture, urban planning, development and asset management are among the wide range of social/economic spheres where mobile apps will play a key role, ACT elaborates briefly in several use cases included in its latest annual App Economy report.