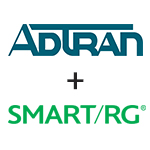 ADTRAN, Inc. is acquiring SmartRG, Inc. for an undisclosed amount, the company announced today. The ADTRAN SmartRG acquisition pairs ADTRAN's open networking solutions with SmartRG's open-source connected home platforms, Wi-Fi-enabled residential gateways and SmartOS software platform, as well as cloud services for broadband service providers.
The goal is to provide end-to-end management and orchestration from the cloud edge to the subscriber edge, the companies said. They noted that service providers are now responsible for bandwidth getting delivered to every device within a home, including smart home devices.
According to the companies, the combination positions ADTRAN and SmartRG to capitalize on exponential growth in the fiber access market, driven by greater broadband requirements for connected homes and businesses. The companies point to IDC's Worldwide Quarterly Smart Home Device Tracker, which predicts that all categories of smart home devices will deliver double-digit growth through 2022.
ADTRAN SmartRG Acquisition
SmartRG has more than 3 million devices in service and over 1.3 million devices under management in North America, the Caribbean and South America, with further growth expected from differentiated software solutions as more customers shift from closed, proprietary options to SmartOS.
"We are very excited to welcome everyone at SmartRG—a growing and profitable enterprise—and look forward to their contributions to our team," said Jay Wilson, ADTRAN senior vice president of technology and strategy, in a prepared statement. "SmartRG's expansive customer base exemplifies its market leadership and we are committed to a smooth transition, as we move toward full collaboration and integration with our award-winning Mosaic platforms."
"As fiber-based, virtually future-proof residential networks become a reality and bandwidth is no longer the gating factor, value creation will come from the ability to optimize the subscriber experience," said Jeff McInnis, SmartRG president and CEO, in a prepared statement."Our ability to deliver against this need will enable ADTRAN and SmartRG customers to lower costs, simplify and scale networks and grow revenue by creating higher-value and lasting relationships with their customers."