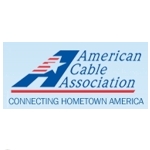 The American Cable Association is asking the FCC to take steps to control steeply climbing programming costs.
According to a study from the ACA and business consulting firm Cartesian, small carriers are seeing margins erode so sharply as a result of climbing programming costs that they are in danger of being unable to invest in broadband network infrastructure. And that reality gives the FCC the authority to step in on content costs, says the ACA.
Under Section 706 of the Communications Act, "the FCC is directed to take immediate action when it finds that deployment of advanced telecommunications is not reasonable and timely," the ACA notes in a press release. "Thus, the agency has both the authority and charge to address the potential harm to broadband deployment caused by high and increasing video programming costs."
Video Programming Cost Impact
According to the ACA/ Cartesian report, video margins for smaller scale MVPDs (those with fewer than three million subscribers) will become negative by 2020 if current trends continue. Programming costs for small cablecos have been climbing more than 10% annually but with over-the-top options on the rise, the cablecos can't pass on the costs to customers.
Researchers also estimated cable companies' net present value (NPV) per home based on those trends and depending when the cablecos begin broadband network upgrades or build-outs. Those results also were disturbing.
For rural cablecos, any investment made after 2019 would yield an NPV of zero or below. Non-rural cable companies – including over-builders and companies expanding into non-serviced areas – would see NPV drop to zero for build-outs made beginning in 2021 or 2023.
Recognizing that current conditions may not continue in the same form that they exist today, researchers also examined three different possible paths forward for cable companies, including:
Offering slimmer video bundles – a scenario that would slow the growth of per-subscriber programming fees while keeping monthly average revenue per user (ARPU) for video flat
A broadband-centric approach that would shift away from traditional cable service to online video as additional programming becomes available online – a move that also would slow the growth of per-subscriber programming fees while keeping monthly average revenue per user for video flat, and which would also increase broadband penetration and ARPU
"Cablization" of the Internet, where content providers would transfer their current multichannel video business to the Internet, charging carriage fees to providers per broadband subscriber and requiring ubiquitous or near-ubiquitous subscription – a move that would generate the same results as the broadband-centric scenario, except that programming fees would gradually switch from being charged on a per-multichannel subscriber basis to a per-broadband subscriber basis
The analysis shows the broadband-centric approach to be the most positive one for all types of companies, potentially maintaining or increasing net present value even for build-outs as far out as 2024. All other options generate a downward NPV trend for future build-out years, with the cablization scenario generating an NPV of zero for build-outs as soon as 2017 for rural cablecos and no later than 2020 for the other types of cablecos.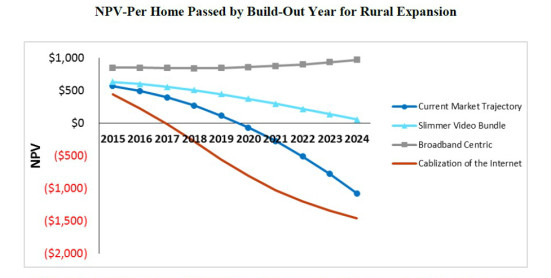 The report authors question whether the broadband-centric approach is a viable one, however. "Switching to a broadband-centric model would require [cablecos] to ignore the current and continuing customer demand for multichannel video programming as part of the triple-play bundle – and potentially the actions of their competition in response to these demands," the ACA wrote in a filing with the FCC. "It would jeopardize MPVDs' current prime source of revenue. . . Thus, even if providers believe the market will eventually evolve to a different state than it is today, they will likely take a wait-and-see attitude toward new investments. . . In the meantime, multichannel video economics are deteriorating and may limit new broadband deployment in areas served by smaller-scale MVPDs."
What the ACA Wants From the FCC
In its filing, the ACA asks the FCC to:
Update program access rules by ensuring that an MVPD buying group such as the National Cable Television Cooperative, has the right to bring a complaint against a cable-affiliated programmer that imposes discriminatory rates, terms and conditions
Require broadcasters to continue to provide signals to consumers after an existing retransmission consent agreement expires and while the terms of a new agreement are pending resolution of a dispute
Monitor and be prepared to address commercially unreasonable actions by content providers such as any "cablization" effort that would require broadband ISPs to pay per-subscriber fees in lieu of one-to-one arrangements between content providers and broadband consumers
Launch the rulemaking requested by Mediacom Communications to limit forced program bundling and prohibit volume discounts that bear no relation to cost