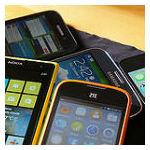 The global market for in-building wireless (IBW) equipment and deployments will more than double by 2020. North America will drive growth for the market overall while growth in Europe and Asia-Pacific will pick up in 2016, according to a new report from ABI Research.
Encompassing Active Distributed Antenna Systems (DAS), Passive DAS, repeaters and pico-cell networks, operating wireless networks inside buildings is one of the most challenging environments for the wireless industry. As is the case broadly speaking, the growth in in-building wireless usage has shifted decidedly towards data as opposed to voice services, and providers are now focusing on improving the coverage and quality of in-building wireless signals, ABI explains in its latest In-Building Wireless Market Research forecast.
In Building Wireless Investment Growth
More money will be continue to be spent on DAS in North America than any other world region in coming years, according to ABI. Among market sectors, sports venues, transportation and healthcare facilities will garner the greatest amount of investment.
Shopping malls and hospitality will follow as other leading market segments in North America when it comes to growth in DAS spending. Collectively, these North American market segments make up just under 50 percent of DAS spending, according to ABI.
"While the Asia-Pacific region accounts for just one-fifth of the total market, we forecast it to be the fastest growing region and to represent over 25% of the market by 2020," ABI Research Director Nick Marshall was quoted in a news release.
"China dominates the activity in the Asia-Pacific region and we believe that while CAPEX today is targeted to TD-LTE and 4G macro deployments, in-building wireless deployments will turn the corner in 2016 when the market returns to growth and active DAS systems are deployed for better data coverage."
ABI singles out CommScope, TE Connectivity, Axell Wireless, Corning, JMA Wireless, Dali Wireless, Zinwave, Goodman Networks, Wireless Telecom Group and SOLiD as leading IBW technology providers that will benefit from growing DAS spending.
Image courtesy of flickr user Jon Fingas.