A record high 13.72 trillion megabytes (MBs) of mobile data coursed over wireless networks to mobile device users in the U.S. in 2016, 4 trillion MBs more than in 2015 and 35 times that in 2010, according to CTIA's latest, "Annual Wireless Industry Survey."
By way of more commonplace context, 2016's 13.72 trillion MBs of mobile wireless data traffic is the equivalent of 1.58 million years' worth of streaming HD videos, CTIA highlights in a news release. "Americans are using more wireless data than ever. As wireless becomes central to our lives and the U.S. economy, it's no surprise that Americans' mobile data usage continues to skyrocket," said CTIA president and CEO Meredith Attwell.
"This continued growth underscores the need to free up more spectrum and modernize infrastructure processes at all levels of government to make way for next-generation 5G networks – and hundreds of billions of industry investment."
Mobile Device Impact
Use of data-intensive mobile devices continues to rise in the U.S., CTIA highlights. Mobile devices that generate heavy volumes of network traffic, e.g. smartphones and wireless-enabled tablets and laptops, accounted for 309.8 million of the overall total 395.9 million mobile devices on carrier networks as of year-end 2016. That's up a whopping 238 percent from 2015.
U.S. wireless penetration also continued its seemingly inexorable rise. In percentage terms, U.S. wireless penetration increased 4.2 percent year-to-year in 2016 to reach 120.6 percent as compared to 115.7 percent in 2015. All told, there were 395.9 million active wireless devices in the U.S. as of year-end, according to CTIA, more than 1.2 wireless devices per American.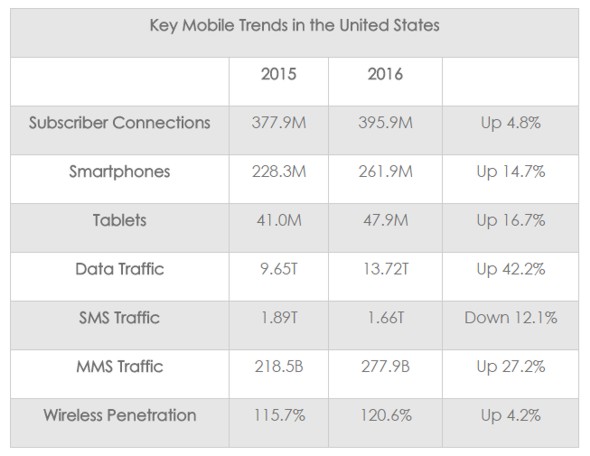 Wireless/mobile network industry companies continue to invest across a broad front to keep up with, if not stay ahead of, the pace. More than $26 billion was invested in 2016 alone, while a record 308,334 cells sites were in operation as of year-end—a growth rate of 57 percent over the last decade.
Among other highlights, mobile subscriber connections rose 4.8 percent year-to-year in 2016, rising from 377.9 million in 2015 to 395.9 million last year. 2016 smartphone connections totaled 261.9 million, up 14.7 percent from 2015's 228.3 million. Tablet connections rose 16.7 percent year-to-year to reach 47.9 million in 2016, up from 41.0 million in 2015.
SMS traffic, on the other hand, dropped 12.1 percent, to 1.66 trillion MBs in 2016 as compared to 1.89 trillion MBs the year prior. MMS traffic rose 27.2 percent, to 277.9 billion MBs, up from 218.58 billion in 2015.
Photo by Oliur Rahman https://unsplash.com/@ultralinx