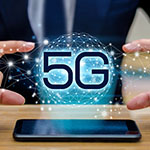 While the major U.S. carriers race to outpace each other in the 5G race, some smaller carriers also are planning for 5G. The latest example of regional carrier 5G deployment plans comes from Inland Cellular, which said it has selected Parallel Wireless to provide 5G-upgradeable 4G LTE technology. Inland is a regionally owned and operated wireless communications company that provides nationwide voice, data and IoT services throughout the Inland Northwest region of the U.S.
The goal of the project is to provide LTE while densifying, upgrading and preparing for 5G. Parallel Wireless's Open vRAN features software-defined remote radio technology that operates in Band 71 (600 MHz). The platform is cloud-based and is aimed at being easy and cost-effective to deploy. It uses open interfaces to provide deployment flexibility, runs on commercial off-the-shelf (COTS) hardware and supports new technology and services such as the IoT and smart home.
Chip Damato, Inland Cellular's Director of Business Strategy, said in a press release that Inland Cellular will be able to "quickly and cost-effectively expand our 4G LTE network as well as implement VoLTE on a larger scale over a shorter period of time." He noted that the software-based approach enables Inland to not only invest in network expansions for today but also in "delivering new initiatives and services to our subscribers with a 5G-native architecture."
The deal is the first under an agreement between Parallel Wireless and the Competitive Carriers Association (CCA). The agreement, which was announced last month, makes the vendor's Open RAN platform available to the association's members. The goal is to tackle issues slowing down rural broadband, including deployment and operational costs, spectrum access and equipment interoperability.
Parallel said that its Open vRAN technology will provide Inland Cellular with several sets of capabilities:
A cloud-native architecture that enables quick and easy deployments to immediately provide improved coverage and capacity for end-users;
Full interoperability with Inland Cellular's legacy architecture which eliminates the costly need to rip and replace hardware, thus ensuring continuous service for local and roaming subscribers as they upgrade their network;
A 5G-native solution that can be easily upgraded to 5G via a simple software update, enabling efficiency and profitability for Inland Cellular and new services for their customers.