Sponsored Content
Zyxel Communications
Zyxel, a pioneer in IP technology for over 30 years, provides a complete portfolio of multi-service LTE, fiber and DSL broadband gateways, home connectivity solutions, smart home devices, enterprise-class Ethernet switches, security, and Wi-Fi equipment for small to mid-size businesses. Zyxel offers integrated, interoperable networking solutions based on open standards.
Service providers now have a great opportunity to expand broadband access with fixed wireless using CBRS and LTE technology. Fixed wireless capability is greatly enhanced with these technologies, allowing service providers to deliver a great broadband customer experience.
The recent conclusion of the CBRS auction has created good momentum for LTE-based fixed wireless. CBRS is in the 3.5 GHz to 3.7 GHz spectrum band that the FCC has designated for sharing among three tiers of uses: incumbent users, priority licensees, and generally authorized, which is "lightly" licensed.
Using the latest options, fixed wireless service has been greatly improved over historical wireless broadband performance. Service providers can leverage LTE-based fixed wireless to deliver service of up to 100 Mbps downstream or more.
LTE-based fixed wireless also offers improved latency and better spectrum efficiency, providing comparable fixed broadband performance to wired broadband technologies like cable, fiber, and DSL. LTE-based advantages for fixed wireless also include taking advantage of the massively scaled LTE ecosystem, with carrier-class equipment solutions readily available and attractively priced.
Using LTE-based fixed wireless allows carriers to reach areas where fiber may not make economic sense or may take too long to deploy. Fixed wireless can get carriers to market much more quickly, generating revenue for a quicker ROI.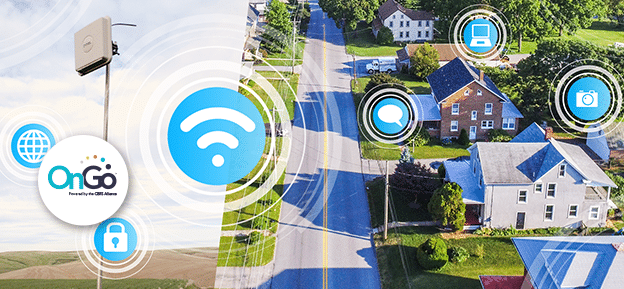 Remote Management
As service providers deploy fixed wireless networks, particularly in rural markets, having remote management capabilities can be critical for ensuring a good customer experience. A cloud-based remote management platform like the Zyxel Band Pilot platform allows service providers to remotely monitor, troubleshoot, and perform firmware upgrades to the multitude of devices in the field. Advantages of the Zyxel Band Pilot platform include:
CPE Summary on Dashboard and Intuitive User Experience — The operator can find the device information summary on the dashboard quick view, including online devices, models, and the Firmware version for each.
Graphic RF Performance History — Provides a histogram on an hourly/daily/weekly/monthly basis for RF information such as RSRP, RSSI, RSRQ and SINR. Supports one click Zoom In and Zoom Out feature to know the detail of each period of time.
Manage Firmware Upgrade Maintenance More Easily — Allows operator to run Firmware upgrade for individual or multiple devices and manage the status of all the upgrade tasks.
Remotely Troubleshoot with TR143-based Speed Test, Ping, and Traceroute Diagnostic Tools — provides a set of tools for operators to be more efficient and responsive in helping end users. They can troubleshoot by using TR143-based download/upload speed tests and diagnostic tools such as ping, traceroute, reboot, and/or reset functions.
Service providers who are looking to reach areas where fiber may not make economic sense should consider LTE-based fixed wireless. There are CBRS unlicensed bands for companies who lack spectrum. Additionally, LTE-based fixed wireless is perfect for expansion into new markets and offers a quick-to-market, competitively priced high-performance broadband solution. The opportunities are significant. To learn more about Zyxel's LTE Solutions contact us at broadband@zyxel.com or connect with KGPCo for more information.