Ziply has begun offering 50 Gbps service to single-family homes anywhere in the company's fiber-enabled footprint in Washington, Oregon, Idaho and Montana. As Ziply CEO Harold Zeitz explained in a pre-briefing with Telecompetitor, the service does not use passive optical network (PON) technology, but instead is Ethernet-based.
It's the same approach that the company has been using to deliver 10 Gbps service, Zeitz explained.
"We don't use PON for 10 Gig," said Zeitz. The reason, he said, is that PON technology labeled as 10G only delivers about 8 Gbps because of overhead.
"We do it with fiber-to-the-home and we use SFP [small form factor pluggable] to convert to Ethernet," said Zeitz. "We're delivering an Ethernet service to the home."
"For 10 Gig we use SFP," he explained. "For 50 Gig, we use quad SFP."
"It's a transceiver," he said. "It converts to Ethernet."
According to Zeitz, customers will consistently get speeds of at least 50 Gbps, even at peak times.
To support this offering, Ziply had to architect fiber networks throughout its footprint so that "we enable a specific fiber to be connected all the way back to the central office," he explained.
When a customer orders 10 Gig or 50 Gig service, Ziply technicians run a fiber to the home from a nearby point in the network if that fiber has not already been run. And instead of having the fiber go to a splitter in the neighborhood as with PON, the fiber goes instead to a border router, Zeitz said.
Ziply made a significant investment in its core network to support the 50 Gig offering.
"Our core network has multiple 100 Gig connections and we have about 200 core network locations," Zeitz noted. "Every market is connected to at least two core networks."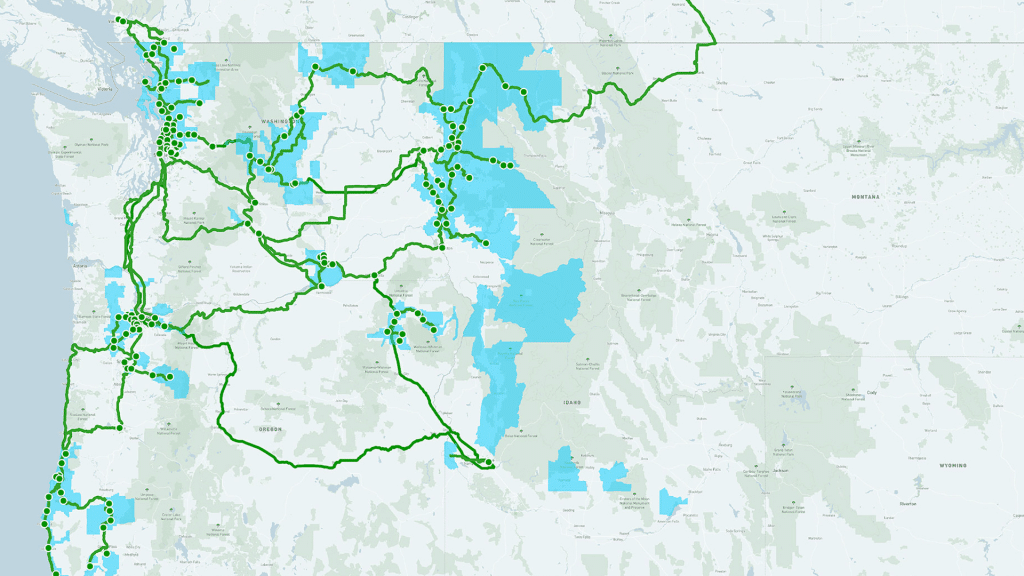 The 50 Gig service isn't cheap. Ziply is charging $900 a month plus a $600 installation fee. Customers also need a powerful computer to take advantage of the fast speeds.
Nevertheless, Zeitz sees a market for the 50 Gig offering.
Early adopters will be "tech forward innovators—people who want the best and fastest," Zeitz said. The service also may appeal to families that have a lot of devices online at the same time.
Zeitz also sees the 50 Gig service helping to convince customers to get their broadband from Ziply, even if they are purchasing PON-based services with speeds up to 5 Gbps.
"They might not choose 10 Gig or 50 Gig, but knowing the network can do that makes them feel confident that Ziply can do whatever they might need," Zeitz said.