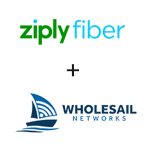 Ziply, a unit of WaveDivision Capital, has acquired telecom infrastructure provider Wholesail Networks and has announced 13 Northwest markets that will receive fiber upgrades.
The markets include tier 2 and 3 markets in Washington, Oregon, Idaho and Montana – the states where Ziply acquired operations from Frontier Communications. That acquisition closed earlier this month.
At the time of unveiling Ziply Fiber, WaveDivision Capital announced it was committed to investing $100 million in upgrading the Frontier markets it was acquiring. WaveDivision Capital has shown a keen interest in broadband investment having also invested in RCN Grande, Hargray and other properties.
Ziply Wholesail Acquisition
Wholesail Networks provides a range of core network services such as Ethernet, IP and TDM transport; dark fiber and wavelengths in the Northwest. Today's press release about the Ziply Wholesail acquisition emphasizes Wholesail's network construction capabilities and also highlights a rather unique approach used to expedite the turn-up of fiber services in the former Frontier properties.
"A key component of Ziply Fiber's Northwest-focused strategy was to pre-invest in network improvements prior to the May 1 closing of its deal with Frontier and to jump-start service upgrades," Ziply said. "To do so, the company began working with Wholesail's team last fall to begin sourcing and deploying next-generation technology to improve the capacity, reliability and redundancy of its network."
Ziply referred to this pre-acquisition work as "pre-investment" in "core and aggregation networks," which according to the company, "helped Ziply Fiber rapidly and confidently" deploy network improvements. Some projects may take 90-150 days to finish, but others will begin supporting services within 45 to 60 days, Ziply said.
Many of the 13 initial markets are smaller and underserved towns that still rely almost solely on DSL or other older technologies, the press release notes. People in the upgraded areas will be able to get broadband at speeds up to 1 Gbps.
The markets to be upgraded include Anacortes, Kennewick, Pullman, Richland and Snohomish, Washington; Coquille, Coos Bay, La Grande and North Bend, Oregon; Coeur d'Alene, Kellogg and Moscow, Idaho; and Libby, Montana.
Today's press release about the Ziply Wholesail acquisition touts a range of network capabilities aimed at enhancing service reliability, including:
Two sets of fiber cabling, routers, cards and more will be installed in more than 130 central offices, to be known as regional hubs.
Additional fiber connections have been installed between certain markets.
Implementation of direct public and private, regionalized peering and interconnection with virtually every major cloud and content provider in the same data centers that those parties use to minimize latency and maximize capacity.
Network capacity will be added before traffic hits 40% of potential.