Zayo is claiming an industry-first for its Waves on Demand offering, which is designed to enable "large bandwidth" customers to turn up wavelength services between key data center locations on the most in-demand routes within a day.
According to Zayo, the company will be the only provider to enable customers to provision wavelengths so quickly.
The company said it launched eight new Waves on Demand routes in 2023, with five more routes planned.
The eight completed Waves on Demand routes include routes between Newark, NJ and New York; Ashburn, VA and New York; Hillsboro, OR and Seattle; Ashburn and Newark; and Atlanta and Dallas. In addition, there are two routes between Los Angeles and San Jose and an "inter-Los Angeles" route.
The five future routes include routes between Toronto and Chicago; Newark and Chicago; Chicago and Secaucus, NJ; Englewood, FL and Chicago; and San Jose to Seattle.
400G and Security Upgrades
Zayo is also upgrading its IP core network to support 400G connectivity and enhancing network security. The company now requires two-factor authentication for border gateway protocol (BGP) route management, a move aimed at preventing inadvertent or malicious route hijacks.
The 400G connectivity is now available on 22 tier 1 routes. The company also plans to add 10 tier 2 and 3 routes this year.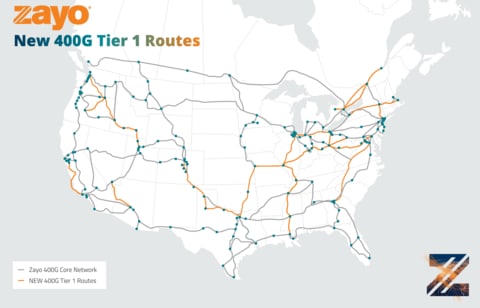 A list of the current 400G routes is available in this press release, along with a list of planned new and augmented dark fiber routes planned for 2023.
In a video accompanying the press release, Zayo says it provides 99.999% uptime on long-haul and metro fiber routes.