A planned  $127 million Zayo Spread Networks acquisition, announced today, will bring Spread Networks' low-latency assets into the Zayo gold.
In the press release announcing the all-cash deal to purchase the privately-owned telecommunications firm, Zayo said that the acquisition will provide Zayo's customers with the lowest latency and most direct fiber route between New York and Chicago, as well as additional physical path diversity. Spread Networks owns and operates an 825-mile, high-fiber count long-haul route connecting New York and Chicago.
Zayo Spread Networks Deal
The fiber path between the two cities is particularly important to financial services customers who have trading operations in the key financial markets of New York and Chicago.
The acquisition will also help the company build out its fiber network, including routes from Seattle to Chicago and San Francisco to Chicago, to benefit other verticals including content, media and cloud providers. Traffic to and from Asia, which connects through cable landing stations in the Pacific Northwest, also travels via the combination of Zayo existing fiber routes and the Spread route.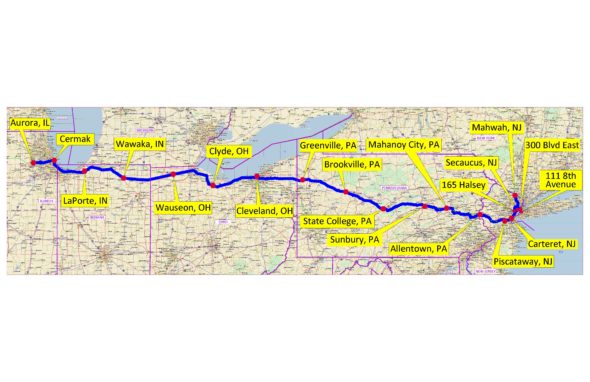 The high-fiber count route, which currently serves more than 60 customers, is less than 25 percent utilized today, according to Zayo. The acquisition provides the company with overpull rights and additional conduit. Zayo will use the acquired assets to provide a low-latency wavelength route from Seattle to New York.
"Spread constructed this route to provide the fastest possible speed on the shortest possible route," said Zayo CTO and president of fiber solutions Jack Waters, in a prepared statement. "This asset is an outstanding complement to our existing network, providing customers with low-latency options to and from the country's leading centers of finance and commerce. Given the relative simplicity of the business, this will be a straightforward integration with meaningful, near-term synergies."
The all-cash transaction is expected to be funded with cash on hand and debt and is expected to close in the first calendar quarter of 2018, subject to customary closing conditions.