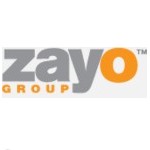 Zayo Group's plan to split into two companies, announced yesterday, is driven in part by the desire to simplify the process of converting one of the companies into a telecom real estate investment trust (REIT) if the Internal Revenue Service allows that conversion to be made. Of the two companies, the one referred to in Zayo's press release as "InfraCo" is the one that would become the Zayo REIT, the company said.
A Zayo REIT would have certain tax advantages and Zayo would be the second telecom company, after Windstream, to spin off some of its assets into a telecom REIT.
On a conference call today, Zayo CEO and Chairman Dan Caruso said InfraCo would be a "REIT-able property that's very clean" and would be "straightforward for REIT investors to understand."
InfraCo is to be comprised of Zayo's current fiber solutions business segment and its zColo data center segment, along with the wavelength and IP transit businesses of Zayo's current transport unit. The other company, to be known as EnterpriseCo, will be comprised of Zayo's current enterprise networks and Allstream segments, along with the Sonet and Ethernet businesses of Zayo's current transport segment.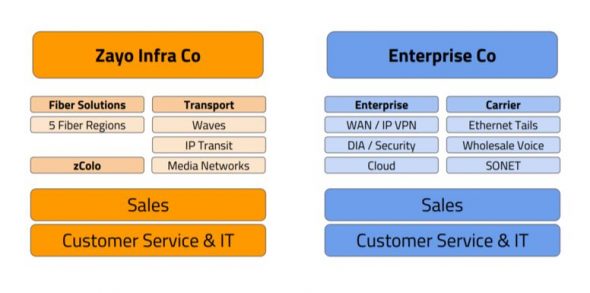 The split of Zayo into two companies is expected to occur in the fourth quarter of 2019, according to Zayo's press release.
Beyond a Zayo REIT
The plan to split Zayo into two companies is also driven by a desire to bring greater focus to each of those companies, Caruso told investors on today's conference call.
He also noted that InfraCo also may be valued at a higher multiple after the spinoff and that it may gain a lower cost of debt, which would help provide "currency" for mergers and acquisitions.
Zayo's plans for splitting the company would involve InfraCo leasing infrastructure to EnterpriseCo. When Windstream created its telecom REIT, now known as Uniti Group, in 2015, a similar arrangement was put in place.
At that time, some industry observers expected to see other telecom companies make the same move, but that hasn't happened. A Uniti Group exec in early 2017 noted that the IRS issued new regulations after the Windstream spinoff that made future REIT spinoffs from C corporations less attractive. Corporations undertaking REIT spinoffs can no longer get the benefits until years after the spinoff, he said.
Telecompetitor asked Zayo about that earlier this year when Zayo announced that it was exploring the possibility of converting into a telecom REIT and was told that the company couldn't comment on "what other REITs say or what their view of REIT-ability is."