Zayo Group Holdings says that it is deploying 31 long haul routes across North American and western Europe supporting speeds of 400 Gbps (400G).
The company says that the upgrade will be done throughout the first quarter of next year. The client-side capacity will enable the delivery of multi-terabit capacity to the Zayo global network, enabling higher transmission rates, reduced cost per bit, increase data transfer speed and greater bandwidth, the company says.
Transmission capacity as high as 800G will be available in some areas, according to the company.
Drivers of 400G include the IoT, 5G, cloud and edge computing, virtual reality, high definition video and artificial intelligence. The plan is to provide a direct route for multi-cloud and multi-market connectivity. This, Zayo says, is ideal for content providers, hyperscalers, carriers and data centers. The move will reduce space requirements and operational and maintenance costs. Power consumption reductions will be as high as 40%.
"400G is rapidly becoming the prevailing requirement for networks and Zayo is breaking new ground with its 800G capabilities," Brian Lillie, Zayo's Chief Product and Technology Officer, said in a press release. "This deployment underscores Zayo's commitment to maintaining the leading edge of communications infrastructure and providing state-of-the art network solutions critical to our customers' digital transformation journeys.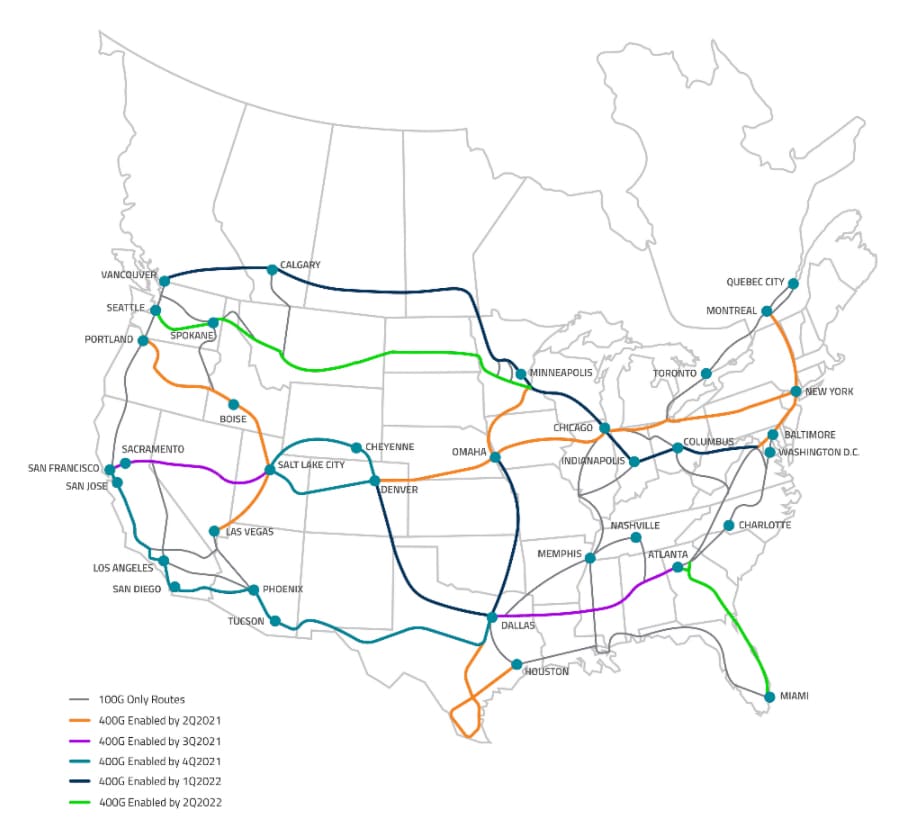 Zayo runs a 126,000-mile network in North America and Europe. It offers dark fiber, private data networks, wavelengths, Ethernet, dedicated internet access and data center connectivity.
In March, Zayo announced two expansion projects in Vancouver, BC: a network upgrade to 100G – which had been completed when the announcement was made – and an increase in capacity to the existing route between the city and Seattle.
Earlier in March, the company said that it planned to purchase Intelligent Fiber Network (IFN), a fiber operator owned by a group of independent telcos and a rural electric company that primarily serves Indiana. The deal was expected to close during the second half of this year.