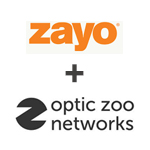 Zayo Group Holdings, Inc. has acquired Vancouver-based Optic Zoo Networks for $31 million (CAD), the company announced. Optic Zoo owns and operates high-capacity fiber in Vancouver.
Zayo said the acquisition strengthens the company's position in Vancouver and Western Canada, adding 103 route miles and more than 100 on-net buildings to Zayo's Vancouver footprint. The acquisition will deepen Zayo's customer base, providing the ability to cross sell to a diverse group of U.S. and Canadian customers. Optic Zoo's high-count fiber, 270 on average, has ample capacity for new and existing customers.
Vancouver is an important market because it is the third largest city in Canada, and is a growing center for digital media and film, professional services, biotechnology and software development, all large consumers of bandwidth, Zayo noted.
The deal also continues Zayo's aggressive growth.  Late last year, Zayo acquired Spread Networks, providing the company's customers with a low latency, direct fiber route between New York and Chicago.
We reported earlier this year that the company had launched its Zayo SD-WAN solution, an integrated extension of Zayo's fiber-based IP/MPLS backbone offerings.
"The addition of Optic Zoo, with its pure play assets and innovative team, will complement our Canadian footprint and accelerate our traction in a rapidly growing media and technology hub," said Jack Waters, Zayo CTO and president of fiber solutions, in a prepared statement. "Optic Zoo has built a strong and growing business, attracted an impressive customer base and delivered revenue growth rates of more than 20 percent."
Optic Zoo is expected to generate $1.9 million (CAD) in annualized EBITDA for the quarter ended March 31, 2018. Zayo expects to achieve approximately $500,000 (CAD) in annualized cost synergies by year-end 2018.