Age and demographic differences play a big role in which social media sites an individual uses, according to a new U.S. social media use report from Pew Research Center.
The survey found that the two top sites continue to be YouTube (with 81% usage) and Facebook (69%). YouTube and Reddit were the only two platforms that showed significant growth since the last time the survey was conducted, which was in 2019.
The next tier of platforms is comprised of Instagram, which was found to have about 40% usage among survey respondents. About 30% reported using Pinterest or LinkedIn and 25% use Snapchat, Twitter and WhatsApp. TikTok is used by about 21% and Nextdoor is used by about 13%.
Younger adults – 18 to 29 years-old — reported somewhat different results. This group relies on Instagram (71%) and Snapchat (65%). About half use TikTok.
As may be expected, social media usage goes down with age. "In a pattern consistent with past Center studies on social media use, there are some stark age differences," the press release on the social media use report said. "Some 84% of adults ages 18 to 29 say they ever use any social media sites, which is similar to the share of those ages 30 to 49 who say this (81%). By comparison, a somewhat smaller share of those ages 50 to 64 (73%) use social media sites, while fewer than half of those 65 and older (45%) report doing this."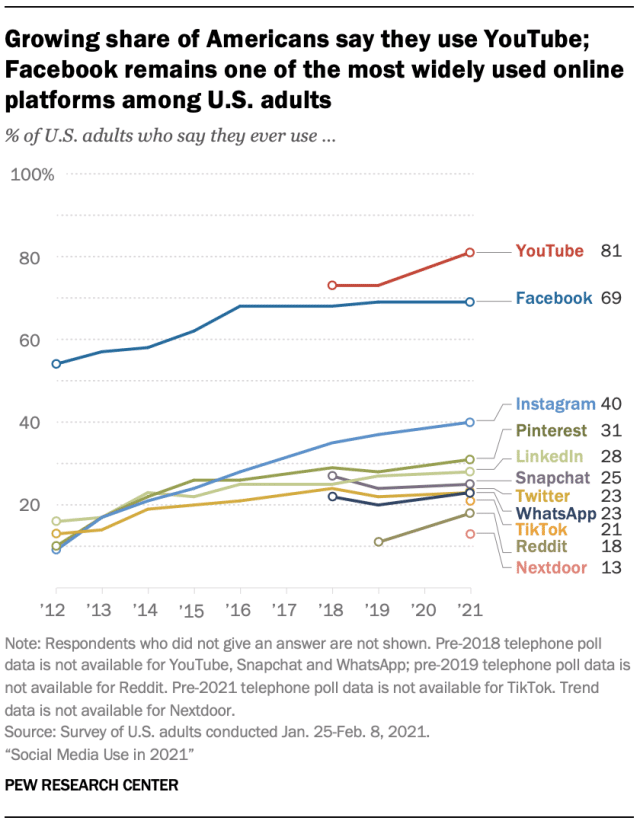 Some sites and apps stand out for their demographic differences, according to the social media use report:
About half of Hispanic (52%) and Black Americans (49%) say they use Instagram, compared with smaller shares of White Americans (35%) who say the same.
Hispanic Americans (46%) are far more likely to say they use WhatsApp than Black (23%) or White Americans (16%).
Roughly half of adults who have a bachelor's or advanced degree (51%) say they use LinkedIn, compared with smaller shares of those with some college experience (28%) and those with a high school diploma or less (10%).
Women are heavier uses of Pinterest than males, 46% vs. 16%.
Adults living in urban (17%) or suburban (14%) areas are more likely to say they use Nextdoor. Just 2% of rural Americans report using the site.
For the report, Pew surveyed 1,502 U.S. adults between January 25 and February 8 of this year.
Social media sites, including some of the most popular, increasingly incorporate video, which has major implications for internet traffic, as recent research from Sandvine illustrates.