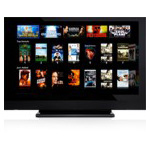 Yahoo thinks 2011 may well be the year that 'Connected TV', where online content is viewed on digital TV screens and, vice-versa, digital TV content is viewed on computer and mobile device screens, comes of age. "The convergence of TV and Internet is here, and this creates a clear opportunity for advertisers," Yahoo! announced in a news release.
Looking to stir up demand for its Connected TV product, Yahoo! teamed up with OTX MediaCT and surveyed US households with DSL connections to "gauge consumer usage of Internet-connected TV devices, as well as attitudes around advertising on Yahoo!'s Connected TV product." The seven main findings as Yahoo! sees them are as follows:
Connected TV is already here: 1 in 3 in three broadband households are using Internet-connected TV at least once a week while 3 in 5 have online connected TVs;
Gamers blaze the trail: Game consoles and built-in TV apps will drive Internet connectivity. 32% of those surveyed expressed interest in each, with users more interested in accessing the Internet through their TV rather than relying on an OTT box or DVD player;
Full-length TV programs or movies (68%), weather (65%) and gaming (64%) are the most commonly accessed types of content;
Fans of TV programs would be interested in looking up online content related to their favorite shows and network with friends while watching them. 60% said they'd like to do so. 53% said they'd like special content related to their favorite shows and 28% want to include friends via social media while watching;
Consumers are interested in interacting with advertisements. More than 50% said they are likely to interact with an ad on Yahoo! Connected TV, increasing to 63% for current Internet TV users and to 70% for those interested in Yahoo! Connected TV;
After watching a demo, 7 in 10 said they were interested in using Yahoo! Connected TV;
Males < 35 and heavy Yahoo! users are "more involved" in this area than women. "They tend to own more TV brands and are aware of more Internet-connected TV options. They are also more likely to purchase or subscribe to TV-related products," according to Yahoo!.