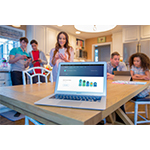 Three new product announcements from Comcast today aim to address a growing trend: As broadband service supports increasingly higher speeds, the number of Wi-Fi devices sharing a single broadband connection also increases. In an interview with Telecompetitor, Comcast Chief Product Officer Chris Satchell explained how the Comcast Wi-Fi roadmap will address this trend.
"We know from servicing high-speed data customers that more than half of problems are something to do with home Wi-Fi," commented Satchell.
Comcast today launched new software dubbed Xfinity xFi designed to simplify installation, management, and troubleshooting of multiple Wi-Fi devices. Additionally, the company announced plans for a new gateway supporting higher Wi-Fi speeds, along with "pods" designed to extend Wi-Fi's reach throughout the customer premises. Both of those products are expected later this year.
Xfinity xFI
Cloud-based Xfinity xFi software will work with gateways that Comcast is currently shipping as well as with 10 million gateways that already have been installed.
"By the end of the year, the number will be 15 million," said Satchell.
For new installations, customers will be able to scan a quick response code with their smartphones and interact with the xFi software, which will prompt them for the next step. Alternatively, users can interact with the software using a web browser or on the TV using an X1 voice-controlled remote control. The software also recognizes new devices and automates the process of adding them to the network.
Other xFi capabilities include:
Support for personal profiles that assign individual devices to specific family members, allowing capabilities such as parental controls on a per-profile basis
Ability to pause Wi-Fi capability throughout the customer premises (a useful capability during dinner time, for example)
Identification of devices that are not working properly – the system will offer tips on how to address the problem
Remote control via the cloud
Network statistics showing who is most active on the Wi-Fi network and when
Text alerts when a new device joins the network
Security protections against malware and phishing
Also part of today's news, Comcast's current-generation wireless gateway will be renamed the "xFi Wireless Gateway."
Comcast Wi-Fi Roadmap
The Advanced Gateway that Comcast expects to roll out later this year is designed to provide Wi-Fi speeds of up to 1.5 Gbps based on the 802.11ac wave 2 specifications, Satchell said.
"There are not many uses for massively high single-device bandwidth," commented Satchell. But people do want to know that multiple devices can share a single connection and all function properly.
In theory, the Advanced Gateway can support 75 simultaneous high-definition video streams, Satchell said. It would be difficult to imagine any customer needing so much bandwidth. But trials with employees have demonstrated that the product can support multiple simultaneous devices, he noted.
The product also will support Internet of Things (IoT) communications using Bluetooth, Thread or Zigbee, Satchell explained. And the xFi installation, troubleshooting, and management capabilities will extend to the IoT devices.
The xFi software also should help in installing the xFi pods that are on the Comcast Wi-Fi roadmap for launch later this year. The pods are designed to extend Wi-Fi coverage throughout the customer premises and each device is about the size of an air freshener, Satchell said.