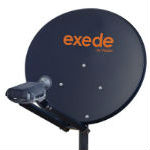 Satellite broadband provider ViaSat on Friday issued a press release suggesting the company envisions participating in the upcoming Connect America Fund auction – and not just in the portion of the Connect America Fund targeting extremely high-cost areas as some stakeholders initially envisioned. The CAF auction will award funding to network operators to bring broadband to parts of the U.S. where service is not available today using a reverse auction that will award funding to companies requiring the lowest level of support.
The FCC last week adopted an order mapping out plans for the CAF auction, including four different speed tiers and two different latency levels. The FCC did not detail the specific latency requirements. But based on comments from ViaSat, the high latency level apparently is set at a level that could be met using satellite broadband.
In a press release, ViaSat praised the FCC's action, arguing that plans are "technology neutral and cost-effective."
What has not yet been determined, and which could dramatically impact satellite broadband's role in the CAF program, is how the various speed and latency tiers will be weighted in evaluating bids.
ViaSat notes in its press release that it looks forward to "commenting on outstanding issues related to weighting criteria to be used to select competing bids," which the company said will "be critical to ensuring that all participating technologies actually compete fairly for funding to deliver the best possible service to everyone."
Broadband Satellite Pros and Cons
Some stakeholders have argued that satellite broadband service is inferior to terrestrial service because of its high latency. Satellite broadband providers argue that the differences between the two options are barely perceptible.
ViaSat – which offers satellite broadband under the name Exede – would appear to have a shot at meeting the two slowest of the four CAF auction speed tiers that the FCC announced last week. These would include the 10 Mbps downstream/ 1 Mbps upstream tier and a 25 Mbps/ 3 Mbps tier. Importantly, both of those tiers have a minimum usage allowance of 150 gigabytes per month, while the two higher speed tiers (a 100 Mbps/ 20 Mbps tier and a 1 Gbps/ 500 Mbps tier) require unlimited monthly usage.
Satellite broadband providers don't offer unlimited service because they face capacity constraints that are less easily overcome than those facing wired and wireless terrestrial service providers.
CAF Auction: A Change of Direction?
It's also important to recognize that while the cost of deploying terrestrial broadband wired or wireless service can vary tremendously depending on terrain and population density, the cost per customer for satellite broadband is largely the same everywhere.  And that could explain why the FCC seems to be more receptive to the technology now than it was when it began planning the Connect America Fund.
In initial plans for the CAF program, the FCC seemed to view satellite broadband as a less than optimal option. Initially the technology was viewed primarily as an option for the Remote Areas Fund, which will cover only the parts of the U.S. that are the most costly to serve using terrestrial options.  But some people have questioned whether the budget for the CAF program as initially envisioned is sufficient to make broadband available to all Americans – and the FCC might view satellite as a means of meeting that goal on a tight budget.
Alternatively, the FCC may simply believe satellite broadband service has improved sufficiently over the years since CAF was first planned. The satellite broadband industry has made considerable improvements to their broadband products and promise even better performance in the near future.
The relatively fixed per-customer cost of satellite broadband raises another issue, however.  The CAF program, like the Universal Service program it replaces, is designed to help cover the costs of delivering service in areas where the cost of providing service is too high to support a business case.
Some might argue that if a satellite provider's cost of delivering service are largely the same everywhere, the satellite provider shouldn't get any funding. But perhaps a company like ViaSat will argue that its costs to deliver service meeting CAF requirements are higher than in other areas because of the capacity requirements or other requirements.
Clearly this issue, along with the issue of how bids for various CAF auction speed tiers will be weighted, will be hotly debated – because carriers in all corners have a lot riding on the results.