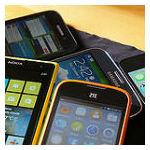 A sign of the times in our increasingly "always connected" work and lifestyles, nearly six in ten (58 percent) of "Generation Mobile" workers feel guilty about mixing their work and personal lives, according to a global study from MobileIron released April 21.
Made up of men ages 18-34 or those with children under 18, members of Generation Mobile, or "Gen M," rely "more heavily on mobile technologies than the general population" in both their professional and personal lives, MobileIron explains the "MobileIron Gen M Survey."
In producing the study on behalf of MobileIron, Harris Poll surveyed over 3,500 full- and part-time professionals in France, Germany, Japan, Spain, the U.K. and the U.S. who use a mobile device for work purposes.
The researchers found that 26 percent of Gen M members do more than one-quarter of their work on smartphones or tablets. That compares to just 17 percent for non-Gen M professionals.
In addition, Gen M professionals also use mobile devices for what MobileIron dubs "shadow tasking" – taking care of personal tasks during work hours and work tasks during personal time.
Eighty-two percent of Gen M members do at least one personal task via mobile devices per day during work hours, according to the study. That compares to 72 percent of non-Gen M professionals.
Furthermore, 64 percent of Gen M professionals do at least one work task using mobile devices per day. That compares to 54 percent of non-Gen M professionals.
Worker Attitudes Toward Mobile
Lack of organizational appreciation of and support for the increasingly blurred line separating employees' work and personal tasks and lifestyles poses a recruiting and retention problem for companies, MobileIron highlights. Sixty percent of Gen M professionals said they would leave their jobs "if their employer did not allow any remote work or restricted their ability to do personal tasks at work." That was true for 50 percent of non-Gen M workers.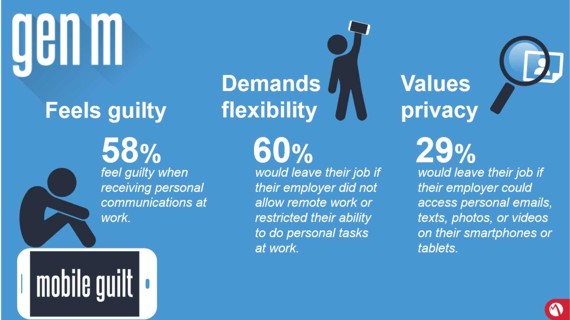 Increasingly mixing work and personal activities is also causing some problems for Gen M workers, however. Sixty-one percent said they feel "mobile guilt" when they receive work communications during personal hours as compared to 47 percent for non-Gen M employees. Fifty-eight percent said they feel mobile guilt when they receive personal communications during work hours as compared to 46 percent of non-GM workers.
"Mobile is fundamentally changing how we work and live," MobileIron CEO Bob Tinker was quoted as saying. "The Gen M Study, to us, reflects the emerging, connected culture of modern business.
"Forward-thinking companies embrace this change and understand that mobile is as much an HR program as a technology initiative. To recruit and retain the best and brightest employees, companies must establish policies that are aligned with the way employees want to work and live."
Growing consumer uptake of smart, connected "wearable" devices is going to intensify these trends, MobileIron points out. "Smartwatches, such as the Apple Watch, are expected to be very popular," Tinker said. "These wearables will increase our connectedness and, possibly, our guilt about mixing our work and personal lives."
Wearable Plans
According to study results, 42 percent of Gen M workers either already own or plan to buy a wearable device. Ninety-five percent of those plan to use the devices for work tasks. According to survey results, Gen M professionals plan to use wearables to:
Take phone calls 58%;
Read email 56%;
Write email 45%;
Get alerts, such as meeting reminders 44%;
Access calendar 40%;
Read documents 37%;
Surf company intranet 30%.
Advice for Employers
Circling back to the implications for company recruiting and employee retention, MobileIron outlines the following guidelines employers can adapt and take advantage of growing use of mobile technology among the workforce:
Accept shifting work styles. Understand in detail the actions employees are taking to be productive so that you can improve their experiences;
Establish clear goals. Agree on what needs to get done so employees can hit mutually agreed targets, regardless of when or where the work happens;
Set top-down boundaries. Lead from the top by setting reasonable boundaries. If the CEO is sending emails at

2AM

, employees will be bound to work at all hours and their personal lives will suffer;
Offer reimbursement stipends. Encourage employees to use the tools they need to get the job done and provide appropriate reimbursement for personal technology (BYOD);
Secure data selectively. Protect business data without compromising the privacy of personal data no matter who owns the smartphone or tablet.
Image courtesy of flickr user Jon Fingas.