Amazon expects to launch two low-earth orbit (LEO) satellites to support Project Kuiper by year-end 2022. The company has inked a deal with ABL Space Systems to launch the satellites and has filed an experimental license application with the Federal Communications Commission to support the planned launch.
According to Amazon's experimental license application, the company plans to operate four customer terminals to test the technology in McCullough, Texas, where the company also will operate a gateway Earth station antenna.
The news comes less than a week after Verizon announced it would use Project Kuiper satellites to provide 5G backhaul and, eventually, to support fixed wireless service in rural areas.
Amazon eventually plans to launch 3,236 LEO satellites to support Project Kuiper, which will compete with several other LEO broadband offerings, including Starlink from SpaceX, which already has launched some satellites that are supporting fixed broadband service in some areas.
Amazon has committed to investing $10 billion in Project Kuiper. According to a blog post, the company has more than 750 people working on the project and plans to add hundreds more over the next year.
The company plans to test two types of customer terminals in the Texas trials, including one designed to be less costly, thanks to an antenna design that uses overlaid antenna element structures. According to Amazon, a prototype of the terminal already has delivered speeds up to 400 Mbps per second.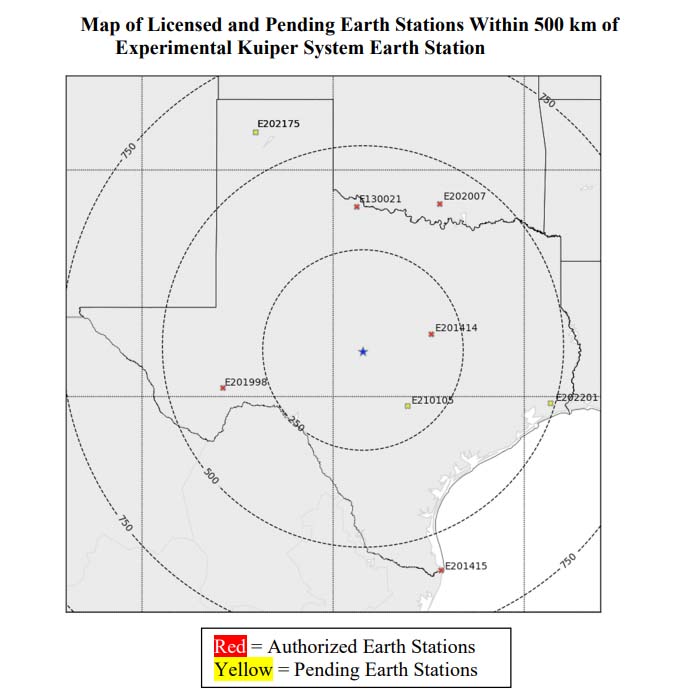 The blog post about plans for the Project Kuiper trial and launch touts the company's plans to be "a responsible steward of Earth and space."
The company notes, for example, that the satellites are designed for atmospheric demise and that the company is committed to working with astronomers to reduce the satellites' visibility to minimize their impact on ground-based optical telescopes.
The LEO satellite broadband business is a risky one, considering the investment required and the competition in the market. But the research unit of rural lender CoBank sees Project Kuiper having the greatest chance of success, thanks to the backing of Amazon – and that assessment was made even before the Verizon deal was announced.