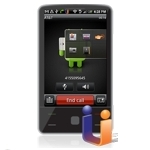 Metaswitch is updating their interactive iPhone Thrutu app, which is also available on the Android and BlackBerry platforms. The Thrutu app enables interactive communication between callers outside of the voice portion of a phone call.
Thrutu is a division of Metaswitch, tasked with developing rich communication services for their platform and their customers.
Thrutu enables users to interact with each other in a variety of ways, during an actual phone call (or outside of one). In addition to native text messaging capability, Thrutu features include, among others:
Share your location – see each other's position updating live on a map, making it easy to meet halfway or orient yourself when lost;
Draw a doodle – whether on top of a map or photo, or just as a standalone sketch, Doodle updates live on both users' phone screens simultaneously;
Play a game – pick your opponent and sit down for an interactive gaming session that's just like going head-to-head in person;
Snap photos, send contacts, share a web search, transfer money with PayPal, or use any of the additional buttons on Thrutu Central.
Metaswitch's Thrutu division illustrates a trend where core network infrastructure vendors are looking to enable their carrier customers with tools and applications beyond the equipment that processes and routes their network traffic. This was a theme heavily emphasized at their recent Metaswitch Forum, held in Las Vegas last month. Metaswitch competitor GENBAND echoed this same theme at their recent customer event.
These infrastructure players recognize that their carrier customers need to evolve and introduce incremental value to their core voice products. This value includes finding ways to integrate the mobile experience into a fixed line network and introducing apps that replace the POTS experience with something much more interactive. Thrutu is just one example of this transformation push. Call it practicing what you preach.
The strategy is not without its challenges. Telcos often undertake this important transformation journey at their own pace. Metaswitch and their competitors will find that some of their customers come along 'kicking and screaming,' while others will look to developer partners with a little more 'Silicon Valley cred.'
It's nothing short of a transformation of the business. One where companies like Metaswitch hope telcos see their product portfolio as evolving to help them ultimately succeed and prosper while undertaking it.