The National Telecommunications and Information Administration has begun the process of updating the National Broadband Map, which has received considerable criticism in recent months. The agency said it would work with eight states – California, Maine, Massachusetts, Minnesota, North Carolina, Tennessee, Utah and West Virginia — on an initial update. An NTIA spokesman said the initial pilot project is targeted for completion by the end of fiscal year 2019.
The National Broadband Map has taken on increased importance as it has been used in determining areas eligible for funding through the Connect America Fund program.
According to an NTIA press release, the initial map update will include "available nationwide data" for every state combined with state-level data from the eight states. The agency spokesman confirmed that the available nationwide data referred to the information that broadband providers are required to report using Form 477 but added that NTIA would be looking to acquire additional nationwide data where possible.
Critics argue that using Form 477 data has made the National Broadband Map inaccurate, causing it to substantially overestimate broadband availability. The reason is that if just one broadband provider offers service to just one home in a census block or reports that it can easily do so, the entire census block is considered to have broadband and therefore may be ineligible for Connect America funding. According to one critic, there are more than 3,200 census blocks that are larger than the District of Columbia and eight that are larger than the entire state of Connecticut.
National Broadband Map
The National Broadband Map was created earlier this decade with the participation of all 50 states as part of the broadband stimulus program but was not updated for several years after that initiative was completed. When the map was updated last year, new functionality was added but NTIA did not do its own data collection, instead relying on the Form 477 data that the FCC collects.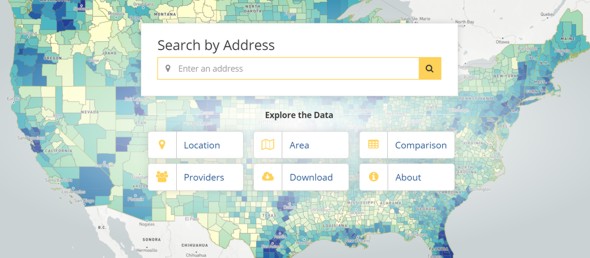 Perhaps in response to concerns from critics as diverse as Microsoft and the Government Accountability Office, Congress included $7.5 million  in this year's federal budget for a broadband map update, which NTIA was directed to undertake. A sum that doesn't seem adequate to complete the task.
The eight states that will work with NTIA were chosen to reflect geographic diversity and because they have active state broadband plans or programs and were willing to contribute broadband availability data, today's NTIA press release says. In addition, all eight states participate in NTIA's State Broadband Leaders Network, which an NTIA fact sheet describes as "a community of practitioners who work on state broadband initiatives" that includes a variety of state-level offices such as state broadband offices, geographic information services offices, offices of information technology, public utility commissions and others.